M I N   D A G
19.12.21 – Today it is 60 years ago Elizabeth, my first wife, came to Copenhagen from London. I still recall her arrival, how beautiful she looked, her clothing and her luggage. My dear mother and I were there to receive her. It is difficult to think that sixty years have passed.
Richard Rogers, the great architect has passed away at the age of 88. I had the honour to briefly work with him on one of my proposals as to Mayfair when I was heading the Residents' Association of Mayfair. I wanted to bring Park Lane, Piccadilly and Regents street traffic under the roads. He liked the whole idea and even considered the cost at the time back in 1988-89. Bringing all the traffic under Piccadilly and Park Lane would allow people to just walk directly into St. James's Park and Hyde Park. At the time Richard Rogers estimated a total cost of £250-300 million. A very little price, considering the increased value in property prices and indeed in the reduction of direct pollution. Sadly I was called a mad-Scandinavian having such ideas. I even wanted all traffic away from Oxford Street having only an electric rail going up and down the street, removing all the pollution from the shoppers.
I shared his love for Florence and Tuscany, moreover, his love for good food and wine. He was a true architect with a great vision.
I recall a meeting at the Royal Commission of Fine Art, where he explained the concept behind his Lloyds building, which impressed me very much. He left a considerable impact on architectural history.
07.12.2021 – Today, my dear grandmother Caroline was born 122 years ago; she only reached the age of 50, dying much too young. I have always missed her very much. I know that if she had lived, my life would have been totally different.
As a father of four sons, I have been blessed and fortunate, indeed their mothers too, that none of them suffered any serious illnesses as children or young. Yes, Romana and I had a serious scare as to Alexander possibly having a very serious cancer in his leg; when he went to Salem boarding school in Germany, we even had him flown in a medical plane to London. The whole thing was just totally wrong diagnosis by the German doctors; Alexander was alright; nevertheless, Romana and I was in a panic.
I am further blessed that all my grandchildren have been healthy.
My "children", now around us, our two bitches (dogs) here, Lady Rose and Maya, have recently had some fights about who is in charge. Rosy wish to remain in charge and not receive a challenge from the little upstart Maya. In April, Rosy will be eleven years, and Maya will be two years in March. Rosy wants to lead, and sometimes Maya pushes her away, showing no respect. This has resulted in that Rosy getting hold of Maya's front legs putting her teeth into it – just terrible. In the meantime, Maya got hold of Rosie's ear (no sign of damage).
Maya had to go to an emergency vet and receive various tablets, including anti-biotics. Moreover, Hanna and I were very worried, as Maya did not take food and just was lying quiet sleeping all the time. This was keeping Hanna and me up at night, as Maya was constantly crying. After a week, she now appears better, and we hope we can relax. Nevertheless, Maya seems in shock and do not appear her old self.
When I had Amey, I asked several vets if I could have another female dog; they all said it is difficult as they can fight, and in most cases, they do. Since we had Maya in June 2020, both dogs had got along, with just a few small fights, but in the last weeks, it certainly has become worse.
They say it could be the hormones; one has to be careful the fighting doesn't get out of hand when bitches start fighting; they don't always know when to stop. Rosy has been neutered, but not Maya.
I was reading about anyone who tried anything new and successfully treated aggression between two female dogs living in the same home?
Out of all the behaviour problems with dogs I see and read about, this particular issue is the one at which the success rate for solving the problem is the lowest, and this is the experience of every other behaviourist I know. There are several ways to approach this problem, but it is important to know that solving this problem involves a big commitment of time and energy and that there are no guarantees. We are going through a difficult time with Rosy and Maya. No doubt that Maya has been affected badly and seems in a chock condition.
The problem must be recognised before it can be improved. The signs that could indicate that there is a serious problem between one or more dogs in a household are many. Rosy regularly pushes another aside for attention, guarding food or toys against one another; the dogs are watching each other intensely or giving each other hard stares, the dogs maintain stiff postures when around each other. Rosy now bullies Maya by taking away all the toys. Maya slinks around the house, avoiding another dog or is kept from moving to certain places in the house by Rosy.
According to vets, trainers and behaviourists, fights between female dogs in the same household are among the most injurious and long-lasting. "
"Fatalities can even occur since many of the worst fights go on so long, with neither party doing anything to stop the aggressiveness. In cases in which fights or other aggressive tendencies are occurring between members of the same household, it is essential that steps be taken to prevent any subsequent injuries and to protect and maintain a high quality of life for both dogs and humans.
Each case is unique, and therefore the specific treatment must be customized, but some general strategies apply. When dogs are having trouble getting along to the point of exhibiting aggressiveness within the household, treatment involves three approaches.
The first strategy is to manage the situation for safety so that there are no opportunities for threats, fights, or injuries. Such management may include walking dogs individually, feeding them separately, and taking away objects such as bones or rawhides that cause conflict. Avoiding trouble in these or other ways is not a cop-out but rather an active training tool that helps keep dogs out of the habit of performing unacceptable behaviour. Prevention is an essential part of the process because every fight is a huge setback that only makes the problem worse and harder to change.
The second strategy is to teach all of the dogs that the way to get what they want in the house is to be polite and patient rather than being pushy and demanding. If you consistently reinforce polite, respectful behaviour, the dogs exhibit more of it. Conversely, when the rude, disrespectful behaviour is not reinforced, less of it will happen.
The third strategy is to work extremely hard so that every dog in the household becomes rock solid at performing basic behaviours on cue. In a house with any tension that could lead to aggression, there can be no trace of the attitude that "Oh well, maybe she'll listen and do it right next time." That way of thinking is a luxury that exists only in households completely free of aggression and any possibility of it occurring. The cues that dogs must be able to respond to in any situation no matter how many distractions exist are "Sit," "Down," "Stay," "Wait," "Come," "Back Away" and "Leave It" (which many trainers call "Off.")
For now, this three-pronged approach is the best we've got. Hopefully, trainers and behaviourists will continue to try new techniques that will make resolution of the problem of two female dogs fighting in the home more frequent."
22.10.21 – Here, in late October, I went to Stockholm, staying as usual at Rävviken Lidingø. Having many good memories about this beautiful place, seeing some of my grandchildren growing up there, part of the year, the nature and quiet, so close to Stockholm. It is always lovely staying there, except I was alone, which is a hassle at my age. Thankfully, my grandson Frederick and his girlfriend Anna coming often for a visit giving me an opportunity for long conversations. He is my oldest grandson and has done very well for himself, I love him very much. 
Considering that Frederick is British, he has genuinely fallen in love with Sweden, in many ways, staying there during the pandemic in the last 18 months.
It was cold, according to our standard from Madeira, but otherwise, the autumn weather with all the colour leaves was beautiful, and as always, the lovely deers running around outside in the mornings is something exceptional.
Interestingly, Mark was born only 11 kilometres away at Danderyds Hospital, as we lived in Djursholm. Fifty-five years later, I had a pacemaker implanted at the same hospital.
I took many pictures of the Swedish autumn: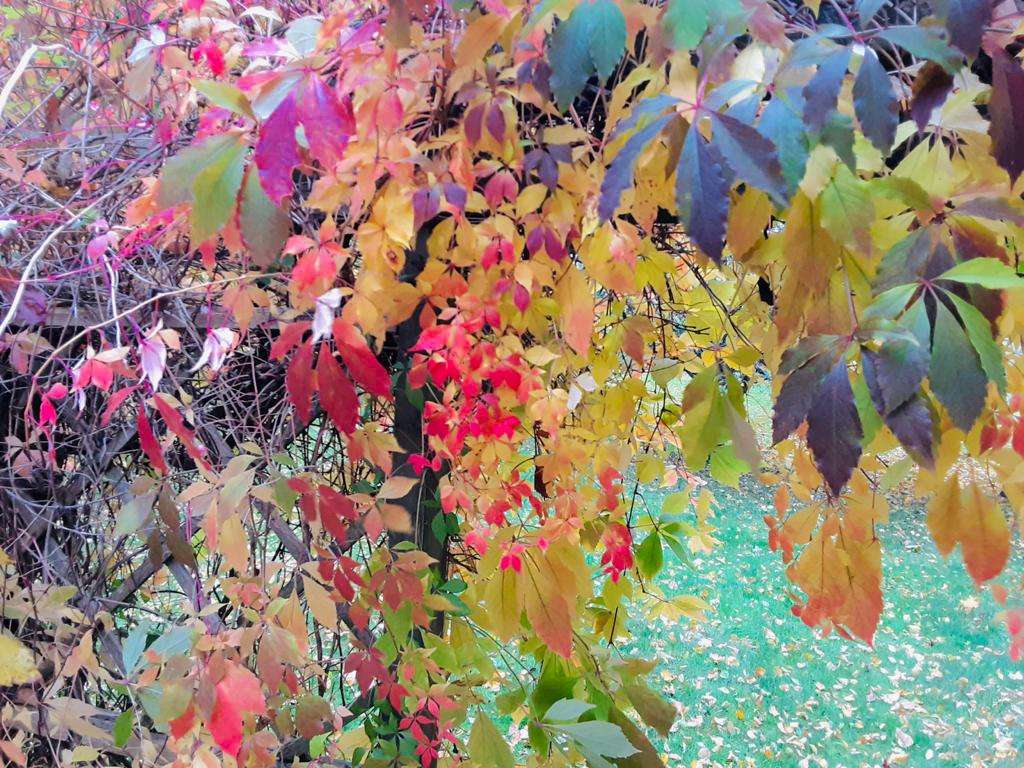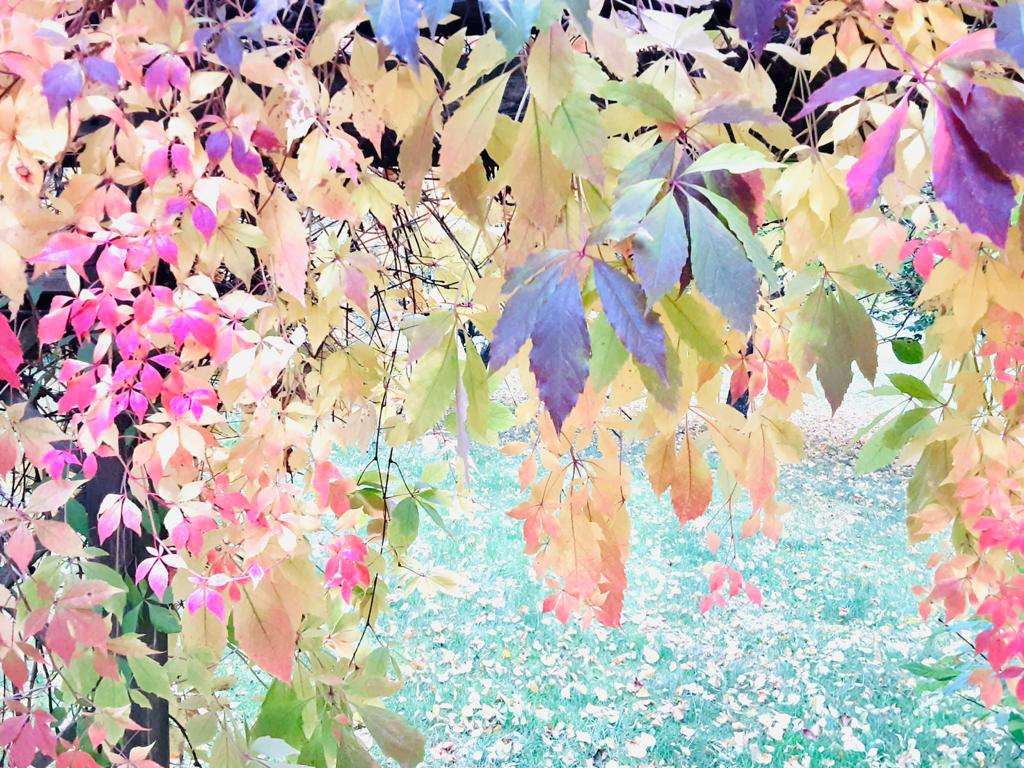 09.09.2021 – I have been thinking about travelling and flying in the last few days, as a secretary had booked me a tourist flight from Funchal to Stockholm (she later changed it to business), in my 81st year I do not like travelling for sure.
Some members of my family travel a great deal even from their childhood, as some of my grandchildren attended schools in a different continent than their home. My family is spread around the world on four continents, so they have to fly in order to meet up and to receive an education.
I am sure most of my sons and grandchildren like travelling. I truly do not like it, certainly not in the last 37 years. I hate airports and everything connected with flying. I should not make such a statement, considering that one of my sons, Alexander is a commercial pilot and fly these big machines in the sky all over the world.
When I say I dislike airports, I have never liked crowds of people; airports are crowds of hassling and stressing, something which has got worse in the last 40 years. Next year it will be 70 years since I went on the first flight (Copenhagen to Aalborg in a Douglas DC-3) since then I must have made something like 850-870 flights.
I wouldn't say I like aeroplanes, but I certainly have not liked flying in the last 25-30 years. People are treated like cattle, and the fact that one even have to remove shoes and belt and show everything getting to a plane makes everything most unpleasant and common. There is no style anymore, not even a dress code; just let everything hang out and push your way through endless lines of people.
Even with the use of first-class lounges in the airports, flying is a hassle; I still recall my many visits to the BEA's lounge first-class lounge in Heathrow. As to first-class and VIP lounges, I still recall the Concorde VIP lounge at Charles de Gaulle Airport in Paris, how they in the morning before the 11:00 flight, filled up the passenger with Champagne, Caviar and Vodka because most passengers when entering the plane was surprised how small and narrow it was, it looked scary to some, like a long tunnel. I did find the seats and foot space uncomfortable.
Many of my children have been to so many places on this earth which I have not. Frankly, since I was young, I never had the urge to travel around, as I liked my comfort; yes, we went to South Africa, the West Indies and the USA.
I have been thinking about how many air flights I have had in my life. The first flight I had when I was with my parent in 1952 went from Copenhagen to Aalborg. After that, it took some years until I partnered in business with a Norwegian, selling milk machines to the shipping industry. In 1957-58 I must have flown about 7-8 times, all European destinations. After that, I did not fly so much, once from Milano to Copenhagen to my mother's 40th birthday in 1959 and then a few times in 1960, from London to Copenhagen.
It was first, in 1965 and until 1970 I really flew a lot. In 1966-67 I travelled weekly to 2-3- destinations (Brussel, Luxembourg, Frankfurt, Zurich and Amsterdam); I will say on average at least 100 flights a year, all first class. Some years more, some years less. This stopped in 1968, and the next two years, I think I had 65-75 flights a year until 71, whereafter, I only flew every weekend Geneva London, when the boys went to school in Glion, Montreux and came back for the weekend to London.
During 1968-71, I flew once a month with my fellow directors to Paris, to Le Bourget airport, as this was a legal requirement for offshore companies to hold their board meetings abroad. Never mind the board meetings, they lasted only 30 minutes, whereafter we looked through the menu and wine card from the chosen restaurant for a big lunch, all more about education in the best of French cuisine and wines. 
With business, each year 1971-75, I must have travelled at least 15-20 times – all first class, with a few exceptions when there was only one class, like in smaller aircraft.
During the period 1975 until 1980, I went something like 60 times from Copenhagen to Zurich, all first-class. We also went across the Atlantic many times, including taking Concorde. So for that period, I estimated something like 90-100 flights – all first-class. During these years when I flew monthly to Zurich, I mainly used SAS; Sometimes, I used to leave my office in Copenhagen when the plane was scheduled to leave, they held the plane back several times – that was the time it was pleasant flying and one received a property treatment.
During the years 1984-1990, I must, on average, have flown 6-8 times a year from London to Zurich. There were many times I did not fly first class but some other class. During the years 1990-2000, we travel business class to South Africa and the USA. Once, we ended up on a Virgin flight from New York, one of the worst flights I ever had, as I stood up most of the way. We also had to fly on tourist class when we could not get business or first class, including several times to Barbados.
When I had my first passport, my height was 196 centimetres; now, I believe it is under 192, all due to my back and age. Considering my height, it always meant I needed leg space, so first-class and later business class was a must; I still recall all the pain of having to be squeezed into a small seat with no leg space. Just a nightmare, specific if it was long flights.
I have flown possible up to 850-900 times, not having my diaries in front of me; it is difficult to be exact. I'm not too fond of airports, to say at least. I never liked them; initially, one always had a cancelled or delayed flight; I never forget the many times being stranded in Schiphol, Brussels, Paris, and several other airports. Flying into London in the old days with bad weather and fog meant many delays. However, during the period 1960-1980, the first-class passage was always well looked after, and one felt special.
Today passengers are mostly packed into spaces; even when you fly first or business class, one has to pass through all other passengers moving all over the place.
Although I felt comfortable flying business class for many years when we lived in the South of France, Nice to London, which I flew on average ten times a year, in late 1990 when Easy Jet started, we had some very cheap flights on Easy Jet, but I never liked Luton airport nor most of the passengers on Easy Jet.
So summa summarum, I believe that I have had more than 650 first-class flights, over 150 business class flights and less than 75 tourist-class flights in my life.
Some of my grandchildren only fly first-class due to upgrades, as they have flown so many times across the Atlantic. I do have so many stories to tell from my experiences flying; I will try to set out some of these "story" events later.
Nowadays, all people are constantly looking at mobile phones, imagine when we did not have such a device. People now do not speak to each other; even families with children are occupied looking at their mobile screens and writing. There is so little social intercourse now. In my experience, most people can't carry out a proper conversation, and young children can't express themselves speaking.
07.09.2021 – I am thankful for my older grandchildren who have filled in a long questionnaire about themselves, I have received a very interesting one from Allana Yasmin, which I hope to publish on her page here. I like this talk from TED about that everything is connected (199) Everything is Connected — Here's How: | Tom Chi | TEDxTaipei – YouTube  I find many interesting talks on TED, I also like this video and How Sacred Geometry is embedded in Your DNA – Secrets of Geometric Art (199) How Sacred Geometry is embedded in Your DNA – Secrets of Geometric Art – YouTube
Today it is 32 years since I first was formally introduced to Romana, so another day of memory. Such memories are timeless treasures of the heart. Interesting, today I looked into the light and the light beyond and seen its divine beauty.
15.08.2021 –  How could the American and Nato countries, be so stupid, sending their young citizen to be killed, in Afghanistan, by such primitive people and nation. The Russian already more than 30 years ago has concluded that it would be smart to leave these uncivilised people to themselves, fighting over their opium fields. The USA spent 1 trillion Dollars, on What? It is sad that so many young people, serving their country, from so far away, had to die for NOTHING, like in most wars. Now the Taliban can take all the expensive equipment from the so-called Afghan military, apparently, the US spent nearly 90 billion dollars on, all the new housing with up-to-date ministerial offices and residents – all free for them to move into, after stealing all the bank accounts and wealth created in the last 20 years. What a stupid world we live in, without any justice, only an exploitation of the ignorant. How can we allow such ignorant and stupid people to rule a whole nation with tyranny? According to the surveys just before the recent event, only 4% of the people in Afghanistan would vote for Taliban! Now they will suffer again!!
This whole humiliation reminds me of an incident back in the mid-1960s, so nearly sixty years ago, in the Grand Hotel Stockholm. I was having a drink in their bar, and when I entered, another man was sitting down at the bar, having a drink alone.
After ordering a fresh orange juice ( I did not drink alcohol and was waiting for a client), another man came up to the bar close to me. He ordered a drink, and I recognised that he must be American speaking. After a while, he looked around the bar, and as I must have looked too sober for him to speak to me with orange juice, he asked the person sitting at the far end of the bar where he came from. The person (not Black) said he was an American. As the Americans always seem very open to me, he then asked what he was doing in Sweden. The man at the end of the bar said right out, "I am a deserter from Germany". The man next to me said quite agitated, "You are a Deserter!" Yes, was the other's response, I will rather be a chicken than a dead duck".
For many years I have told this story, and every time I look back, he was RIGHT to be a Chicken. Think about the needless war of Vietnam!!
10.08.2021 – I have from childhood, from time to time, been drawing and painting, mostly with watercolours. From very early childhood, I wanted to become an architect, which leads to my travel to Brazil and Brasilia; later that, I worked as an advisor to many important architects and consulting engineers in the United Kingdom. Moreover, when James Crabtree and I started Axiom Gallery in Mayfair, we specialised in Constructive art.
Later in life, having curated nearly two hundred art exhibitions in Mayfair, a place with the most prestigious and professional commercial art galleries in the world, I worked with the then London Institute, now University of the Arts London, Europe's largest specialist art and design university, with over 19,000 students from more than 130 countries. I worked with the teachers and students of Central School of St. Martin's and all the other important art institutions in London, from Chelsea to Camberwell and the Royal College of Art, I had my share of seeing artists and their artworks through many decades. I must have viewed many thousands of exhibitions, in the last 65 years, if I include the Venice Biennale, Dokumenta, Basel Art, graduation shows and all the national galleries around from New York to Paris.
When I launch the Art for Mayfair in 60 Brook Street, it was an honour to have two former and the then Minister of Culture be present at the opening, catered for by the best service from Claridges.
My experience has made me very critical about art, specific about my own ability to create; however, I also, at my age, understand and respect the importance of experience and learning as to the various material and colours.
As with everything in life, if you set sail to reach somewhere, you must have tenacity, working hard at it. I did not have that; nevertheless, I have always had a respect for visual artists who just closed their eyes to the world and just created day after day the artworks they wanted selfishly to make.
Genius cannot be taught, but skills can. And even the wildest, most visionary of artists relies on the techniques they were taught.
I question the boundary between art and craft and so much work today. It is not just as students that artists learn, however. Artists who constantly revolutionise their art are looking and studying all their lives.
When during my years, I have visited artist studios, I have many times been jealous of their workspace. Now in old age, I have started "very" slowly again to paint and made a few oil pictures. However, I lack a studio where I can make large paintings, which I dream of doing—being free to work for hours and "mess" up the place, as painting can be messy, specific large canvass with abstract art. Now it is my biggest wish to find a large studio where I daily can work.
17.07.2021 – Today, I was thinking about the first time I came back to London with my young family in 1965; moreover, the stupid mistake I made, mostly because I frankly had no one to advise me and "look up to", no one in my family and friends around I could ever trust. Unlike my sons, I did not have contact with my school friends from Denmark. Further, I did not serve military duty and stayed long enough in a place to have close friends. Except I did have a few in Sweden.
Inflation and a lesson to be learned
The first apartment I purchased was in early 1965 in London Mayfair for our young family was 42 South Audley Street. Initially, we rented a large furnished apartment at 35-37 Grosvenor Square (very expensive) looking for something more permanent, where we could have our own furniture. The apartment was a fantastic location just across from the American Embassy. We witnessed the riots, the anti-nuclear and Vietnam protests, yes many protests, but not the later one in 1968, where the future president of the USA, Bill Clinton, participated. However, I recall seeing, many times, just from the third floor,  how the police horses were forced to attack the rioters, very reluctantly.
At the back of our flat in Grosvenor Square, we could see 42 South Audley Street, which really was in Adams Row, not South Audley Street. One day I saw that the top apartment was empty and immediately contacted the agent. One could not buy the freehold (owned by Grosvenor Estates), but I purchased the leasehold for £ 14.500. I oversaw all the refurbishment, including designing a special bed for the boys and painting abstract pictures on the doors. I still recall going to the wood merchant in Pimlico with the carpenter.
Mark was just 9-10 months when we moved in, and Liz used to take the boys to Grosvenor Square and Hyde Park every day, sometimes meeting with me for a coffee. Sometimes at the Hilton Coffee Shop, in Park Lane, where they had "real" Danish pastries or she walked to the Danish Centre in Conduit Street, where I would briefly join her for sandwiches, all the staff knew the boys for several years, even when Mogens went to kindergarten. Interesting, there were not many coffee bars in Mayfair at the time, only for office workers off Berkeley Street.
Since it took months of serious decoration, I rented a cottage in Cheam where Liz and the children stayed in the week, and I joined them at the weekend. The cottage was old and had a lovely garden.  At the time, Liz wanted Mogens to go to the kindergarten school of Cheam; her wish was my command, so Mogens did go for 2-3 months to this Cheam School, where Prince Charles also had attended. The kindergarten school remained in Cheam, where most of the school was moved to Headley, in the civil parish of Ashford Hill, Hampshire. Sadly we lost the pictures of Mogens in his uniform; he looked so lovely.
Since it was impractical for Mogens to continue to go to a kindergarten school in Cheam, as Liz had to stay in Cheam every week at the Cottage, we arranged for him to go to Margery de Brissac Bernard's Garden House school of Sloane Square in Chelsea. So Mogens started there, in the autumn of 1965, only 3.5 years old and continued going there for more than two years. He loved the school so much, and every day he came home full of excitement and the teachers. Many of the boys attending Garden House went later to Hill House, which all my boys did.
The apartment in South Audley Street was not impressive; it must have been the servant quarters in the old days; nevertheless, it became our first purchased home, as we had been renting in Sweden. Interestingly, the apartment had walk-in large cupboards, which the children used to hide in. We made one of them their hide-away house, as most of the cupboards were too small for me to stand up in, they could hide from me. I loved playing with the boys; Mark had a temper, and one day, he threw the large wooden train at Mogens's head. Nothing serious, this was the first time I had to rush to our local hospital, St. Georges at Hyde Park Corner; however, it happened a few times later, boys are boys. I did not have many belongings at the time as I waited for all this from Stockholm, which never came.
Elizabeth in front of one of my reliefs –  Ideas of growth and abstract harmony into three dimensions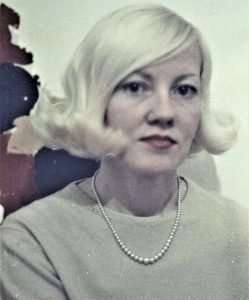 Elizabeth in front of one of the abstract painted doors by me
We purchased the largest bed we had ever seen from a furniture exhibition at Earls Court; it was 2.5×2.5 meters, possibly bigger, somewhat too large for us to buy bed linen for, so we had to have it made, rather costly. Both Liz and I love the bed, which had two large mattresses, all in one. Considering we lived under the roof, I had to make a 4-meter long alcove sofa in the recessed section of the lounge. 
The bedroom was painted wine colour with black Spanish chantilly lace on the wall and with framed old master drawings of nudes (the children was small). The drawings were thanks to James Crabtree, the architect; he and I went on Saturdays to East End to buy old art students work, sometimes he would buy it by weight; I recall once he purchased one ton of drawings. It was James I helped to start Axiom Gallery in Duke Street Mayfair. I still recall when my mother came for the first time visiting from Denmark seeing the bedroom, she was choked and thought it looked like a brothel – well, we were young and in love, so it was a love cave. Considering the size of the bed, my mother came into the bed with the boys in the morning. I recall I did not allow smoking in the bedroom since Liz was a heavy smoker; we did have fights about this. I find nothing worse than waking up to the smell of cigarette ash. I only allow them to smoke in the kitchen or lounge, my mother her cigarillos and my step-father cigars and pipe.
When we left for England, we had packed and sent all our belonging from Stockholm to London in late 1964. After a lot of problems, I was told that it had all been destroyed, stolen or burned in the London docks. The worst was all our photographs and my notebooks from school forever lost. The loss of many of our belongings followed me through life; I envy people who keep everything in one place throughout their lives. I did receive some insurance, but nothing to really cover the loss of all my books from childhood and the hundreds of books I had purchased from Bonnier and C.E. Fritzes Bokförlag, as I received a large discount. I believe I lost 2800-3000 books, all Mogens' toys and some artwork I had already started collecting in Sweden.
Downstair, in South Audley Street (Adams Row), we had a luxury sports car showroom, which many famous people visited, buying cars, including Cliff Richard and several from his band, The Shadows, including Hank Marvin practical every Saturday. In fact, one saw many famous people around the area; some evenings, I sometimes walked with Charles Clore, the property magnate, when he took his little dog out for a pee (picture of him driving below, with 42 South Audley Street in the background). I did ask him about buying property and recall he told me to wait for better times.
We rented the apartment in 35-37 Grosvenor Square (expensive and impressive) in January 1965, just before Winston Churchill's death and funeral, which I saw go by on the Mall. In our building was Sofia Loren and Carlo Ponti, living above us, and Frank Sinatra and Mia Farrow on the second floor below us. I saw Sofia Loren and Mia Farrow several times, mostly in the lift, never Frank Sinatra or Carlo Ponti. Next door in South Audley Street, we had Laurence Harvey, whom I spoke to a few times; he later died at 45, much too young.
Mark Anthony celebrating his one year birthday, a big cake with toys on top, there were only six children there.
I did not go to bars, except with Liz or a client, as I did not drink (not even beer), I recall when you went into the Connaught Bar direct from Mount Street, many times you would see Sean Connery, Stanley Baker and Robert Shaw (who also died young) and many other famous people. There was this large open fire and a real English bar at the Connaught, and the barman always remembered you. Later, they closed the doors to Mount Street and only have the main entrance at Carlos Place. This was the hotel, which did not want Marilyn Monroe or Jayne Mansfield staying there. Cary Grant stayed at the Connaught and purchased, around this time, a house on Farm Street opposite the Church. A church that became quite important for my family, the Church of Immaculate Conception, Farm Street, a Jesuit Church, was built in 1844-9 and, according to well-informed sources, the richest church in the UK. 
Despite not being a Catholic, this is a church that I relate to through many years, from the second time in Mayfair in 1965, when I came back to live there with Liz and my two boys. Later on, when Mogens, Mark and Alexander had a relationship with the church. Mogens and Mark as altar boys in 1972/73 and later Alexander's relationship and ultimate christening at the church with Romana being so happy. My mother and stepfather visited the church several times when we lived in Mayfair. My dear aunt Elna and many others seeing Alexander christening, and we were having a great reception party in my place in Berkeley Square.
During the years when I was acting chairman and chair of RAM, I had a good relationship with several Jesuit in charge of the church; when Tony Marecco was dying in 1990, after his fall at Blackfriars Bridge, I had the Church bless him and get well, I had this arranged to other prominent and not so known Mayfair residents. I was also involved with the Memorial for the Duchess of Argyll and many others, including a memorial for Ayton Senna, attended by many dignitaries after he died in May 1994. For some years, we used to hold regular meetings in the church.
Lis and I always went to midnight mass at the church at Christmas when in London. We would go to the church for midnight service on Christmas evening during all Romana and my Christmases in Green Street and Berkeley Square. I regularly went and lit a candle for my Mother and Grandmother, and Romana went for her Mother, Jadwiga. Walking from Berkeley Square many times, I would make a short walk into the church for a few moments of meditation and prayer. Yes, this church and Laghet in La Turbie was for Romana and me very special places. Just to think, that Alexander married in the church and my granddaughter Isabella Romana was christened there. Sadly, I will never revisit the church, a place with so many memories.
Back in 1965, Mount Street then had everything: food for the residents, a diary, a fishmonger, a greengrocer, dry cleaners, an excellent butcher Allens, even a hardware merchant post office all gone today. Allens had the best Scots beef from the national park of Scotland; one always used to tip the cutter; obviously, Liz tipped most and always had fantastic cuts, the same in Harrods. When we later lived in Chelsea, I bought meat at Allens and, later, when we again lived in Mayfair, so I was a client for nearly 40 years. Allens supplied meat to Dorchester and many of the best restaurants around.
Sadly, I had no one to advise me, about property or money, in my family, having started young and fresh. I gave other people advice, much older people, and did not follow this advice myself. I saw some years ago that this flat was sold for £2 million-plus ( brochure). The apartment was on the top floor, and there was no lift, so it was work for Liz to take the small children up all the stairs; moreover, the stairs were killing my mother when she visited us.
Liz with the boys in Grosvenor Square outside the apartment building in 1965, with, as always, her Hermes crocodile Kelly bag.
Liz in Hyde Park with the boys 1965, Mark always reminded me about Winston Churchill.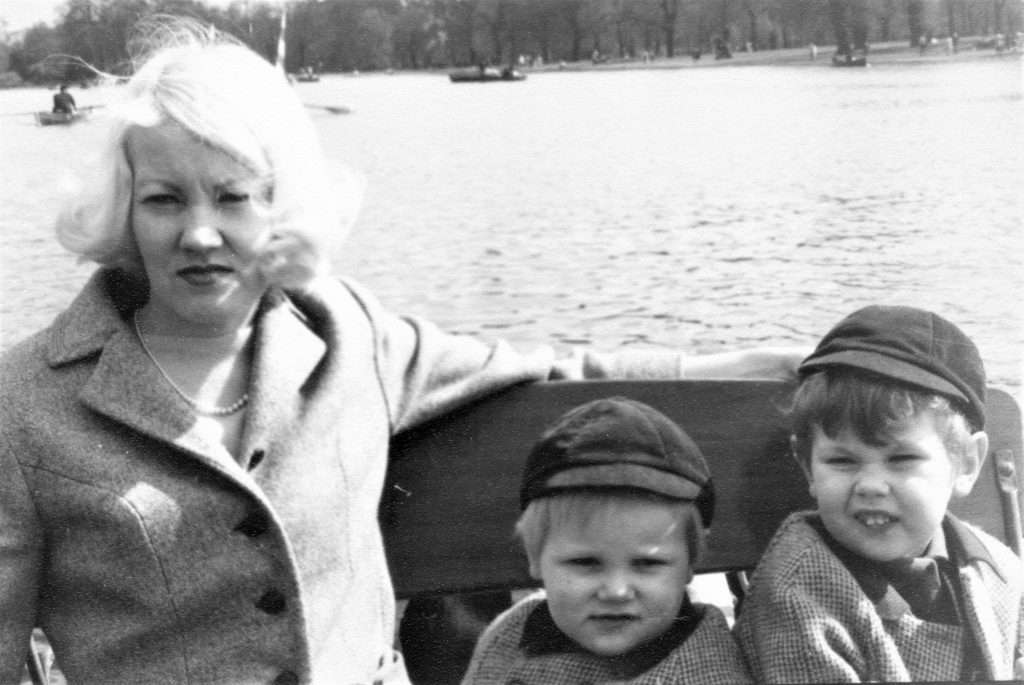 After 18 months, including months of decoration, I wanted something larger for the family, so I purchased the leasehold of 94 Mount Street, a maisonette on four floors. 
94 Mount Street one entered from the street going directly on to the staircase to the first floor, where there was a reception room out to Mount Street, a library out to Mount Street Garden and a drawing-room. The dining room and lounge were on the second floor with another drawing-room out to Mount Street. The bedrooms were on the third and fourth floors. It was an impressive place, and I did have high hopes to have lived there long; however, this was not to be.
The place was previous occupied by Churchill's personal doctor from 1940 until the latter died in 1965, Lord Moran. It had a beautiful open staircase, in marble and a butlers lift (dumb waiter), with a wood panel library, 6-7 bedrooms with the kitchen was on the 4th floor.
Although Churchill's doctor for 25 years, Lord Moran became quite a controversial figure when he published The Struggle for Survival after Churchill's death, which revealed much about Churchill's physical and psychological state, possibly including clinical depression, while coping with the strain of high office. Some people also felt that it breached patient-doctor confidentiality.
Scott's restaurant came later in 1967 opposite, in Mount Street when it moved from Haymarket. The IRA bombed the place in 1975. In fact, the only real violence with guns and machine guns I have seen was in Mount Street. One day a raid, an armed robbery, had taken place on American Express, and the robbers came out shooting all over the place, with a person being hit across the street and another at the corner of South Audley Street. It was very dramatic. Writing about violence, the owners of the best restaurant in the street back in 1965 told us one night that they paid protection money to an East End gang and all the other restaurants likewise paid protection money, and the police were in on this. A surprise to me then, but not later, when I run the Resident's Association, police corruption was evident all over the place.
When I sat in the library, in 94 Mount Street, which overlooked Mount Street Gardens, I recalled that Churchill sometimes visited his doctor and therefore sat in the same room. I never thought that 23 years later I would meet Romana and that she was photographed just outside the property, with our windows in the background, at a garden party I had organised, without me meeting her. Moreover, that Ingrid Bergman had lived in the property after us to her time of death.
This was a big space to redecorate and furnish; I went regular to the auction to buy furniture and painting for the place; I recall some large Victorian paintings I purchased for little money; once, I purchased 14 paintings for £ 3-4,000 in all, some very large. These paintings I sold later with the place, very cheap. My friend Roy Miles, who re-discovered Victorian paintings for the art world in the early 1970s, some of these paintings I had purchased very cheap in 1966 later went for tens of thousands, the money I did not make on them, in fact, one of them with a scene of Mary Queen of Scots execution, was sold for £65,000 at Christie's.
My dear mother in our large bed with Mogens and Mark in 1966
I sold the apartment in South Audley Street, I recall, for a price of £27,000 to Clive Hirschhorn, a film critic, making a little profit, as I had completely re-decorated the place. At the time I paid a secretary £10 a week or less, even later in 1969 I do recall wages to secretaries was  £15-20 a week. In 1970 the average wage was £1,560 per year, and the average house price was £4,057. I do know that for £27,000, one could buy a nice big villa in Hampstead. Mayfair was location and location is location, always at a premium.
I met Clive Hirschhorn later when I was running the Resident's Association, in fact, nearly 30 years later. He told me that David Niven purchased the first-floor apartment shortly after he moved into our apartment. He also told me that Ingrid Bergman owned my maisonette in Mount Street before she died, having sold her apartment in Cheyne Gardens, London.
Mogens playing in his Garden House uniform and the Boys climbing up to their bed in 1966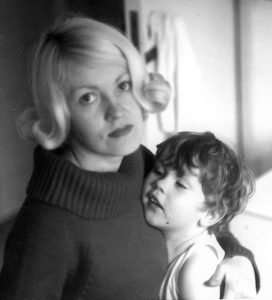 Clive Hirschhorn should know, as he wrote many books, some bestsellers, about Hollywood actors, according to the internet including about: Noël Coward, Jack Nicholson, Dustin Hoffman, Judy Garland, Rita Hayworth, Bing Crosby, Billy Wilder, George Burns, James Stewart, Alfred Hitchcock, Woody Allen, Mel Brooks, Rosalind Russell, Betty Grable, David Niven, Rex Harrison, Yul Brynner, Sammy Davis, Jr., Julie Andrews, Arnold Schwarzenegger, Kirk Douglas, Tony Curtis, Mickey Rooney, and Ginger Rogers. He had the first-class contact with all these famous actors. According to the media, Hirschhorn has put together "one of the world's finest collections of rare first-edition books. I recall he liked the big storage area in the apartment, as he told me he had many books.
When I initially sold the apartment to him, and Clive spoke about all the famous actors he knew or  "just" had dinner or lunches with, I truly was convinced he was full of shit, and it was all lies, as Liz always told me. However, it was all true! Sometimes, when people told me about famous people and incredible experiences,  most times I never believe them; sadly, some later have turned out to be true, confirmed by history and facts. Having lived a full life, I know that facts surpass fiction; moreover, everyone has a story to tell. I believe that elders experience and wisdom should be passed on as to dealing with other human beings. Somehow when we are young, "we know best" sadly, that is not the case, and one leads to trial and error.
My fiscal status as a non-domiciled 
Since I arrived for the fourth time in the UK (December 1964), I was a non-domicile resident, which meant that I could only stay six months in the UK in any one year. As the passports were stamped entering the UK, one really had to make sure that one did not stay longer than 180 days in the UK when entering the UK; otherwise, the Internal Revenue had a case for taxation.
This did complicate life for me from the start, as I had to try to make a living, not only in the UK but outside; moreover, it had to appear that I made most of my living outside.
As a young man with a growing family, soon having children getting to a school-age, this was difficult. Knowing the fiscal rules and advising others about this fiscal reality, most clients with a substantial income and wealth, I knew the problems if I did not stay outside at least 180 days a year. On the other hand, my wife and family wanted me to be with them in London and in the country, and likewise, I wanted to be together with them.
The initial solution I found was to work with some Swiss Banks as an introducing agent, allowing me to work mostly in Germany and Benelux, flying out of UK and coming back from time to time. It also meant that my family had to be abroad more often than other families. Hill House School was an ideal fit for my family as the boys regularly went to Switzerland to the Glion school. We often went to France, Switzerland and Denmark. In France, always in the area around Normandy and Britanny, always by car taking the Dover ferry. 
So I chose to work out of Geneva in 1966, with an office in Rue de Lausanne. When the boys were in Glion, I used to fly back at the weekends with them to London and back Sunday night, delivering them back to school Monday morning or late Sunday evening. During the week, I stayed at the Le Richemont hotel in Geneva. Friday evening, I would normally drive to Glion, above Montreux, a Swiss town on the shoreline of Lake Geneva at the foot of the Alps to collect the boys. It was such a beautiful area with Mont Blanc opposite across the lake. 
A few times, the boys stayed with me at Le Richmont, once we had some upsetness about me not taking them to the funfair along the lake. Going up in the lift in the hotel to our room, Mark was crying, and initially, I did not realise it; Gina Lollobrigida was in the lift. When seeing Mark crying, she asked why and at the same time said: "Bella Bambino", touching Mark's blond hair. When she heard that Mark wanted to go to the funfair, she told me that she would take him and she did. I can't remember why she did not take Mogens; I think he saw a friend from the school staying in Geneva that evening. I still recall when she came back to our room with Mark, I wanted to offer a drink, but she said it is late and the boys must go to sleep. Nevertheless, Mark went with Gina Lollobrigida all evening at a funfair; thereafter, he always was upset when we asked about her.
Once we were flying back to London, we were waiting a long time in the airport, as the plane from London was delayed. When the plane finally arrived, it kept its engine on, waiting for passages. When I sat down in the seat facing each other, the seats totally collapsed; the Steward came and said, do not worry, Sir, we fix it, and they did. Flying over the Channel, the plane certainly shook, but we could not see anything; 5-7 minutes thereafter, the captain came on the intercom and said; "You may have noticed a dump over the channel, we lost an engine, but do not worry" This was old pilots from the war, they could fly! We had a safe landing at Heathrow, and the boys had a story to tell their friends.
To continue…
20.06.2021 – Today is Father's Day, something the Americans have invented for business. When I was growing up, we never heard of this celebration, not even when young in the 50s and 60s. I had never received a fathers day card from any of my sons, except Alexander's (when he most likely was told by his mother), although I am not his birth father.
I have to say that we did not really celebrate fathers day when my boys were small; it started with mothers day later. Nevertheless, after the 1980s, my boys should be aware of the day, and indeed, I hope they receive father's day cards from their children. I know that at least Hans Christian's children write some beautiful cards and messages to their Dad, very nice and he should be thankful. They could all, however, never think that I am a Dad too.
I do not want every year on my birthday and "fathers day" to be reminded about my children and my regrets to have them in the first place. I did not receive any cards from them on my 40th, 50th, 60th, 65th, 70th, 75th and 80th birthdays. I may have been a great disappointment to them, but believe me, I am even more disappointed in myself having had them in the first place.
19.06.2021 – Elizabeth, my wife, could have been 85 years old today; I did not hear anything about this from any of my sons; they appeared to have forgotten a mother who was totally devoted to her them. I recall Joachim von Ribbentrop (the German politician who served as Minister of Foreign Affairs from 1938 to 1945), his niece telling Romana and me that they owned a castle in Sleiwig Holstein now had old folks home. One day she was there, and a man telephoned her and wanted to give some instructions about his mother. The mother was there, and she had 7 boys, which she looked after even during the war. The man on the phone said: "will you please contact me when she is dead". Surely before she dies, our friend said no, he said when she is dead and buried! Seven boys could not look after their mother, and they never visited her for 18 years.
During the last days, having had a bad cold, lying in bed, I have been thinking a lot about my life, specific what happened 60 years ago and how I could choose the path with "Liz" Elizabeth (which she always wanted to be named, until late in life Mary Ellen). This was a significant mistake, which I paid for later with my injustices and, indeed, I will forever pay for with my boys and their children since the seed has been planted.
How blind love can be, and even how easy a young man, even with considerable sexual experience from a very early age, can be fooled over and over again by a smart woman. Liz was five years older than me and came from a large Irish Catholic family with a typical Irish-Yorkshire working-class background.
The mistakes I made came very rapidly in the beginning; I fell in love with Liz from the first encounter, after we met and stayed together for a week in my apartment in Stanhope Gate in September 1961, I had to leave the UK, as my visa to stay in the UK was expiring. The normal routine was to leave the UK and come back some days weeks later and stay for another six months; however, this became impossible around this time because they counted 180 days per year stay only.
Therefore, I had to part with Liz, which was difficult; After all, I truly love her, and our parting was very traumatic, more so because I found later that Liz had taken fifty pounds from me. Considering I did not have her telephone number, as she did not have one, only stayed with "friends", I had to drive around to places where I thought she could be. There was an older British gentleman, a writer living in Holland Park, and a lesbian girlfriend living near Tite Street in Chelsea. When I found her in Chelsea, she was happy to see me but reluctant to admit to taking my money. Nevertheless, this was no doubt my first great mistake.
The second mistake, we went back to my place in Stanhope Garden and made love for days, ignoring my permit to stay in the UK. The British were very strict on such stays and put people regularly in prison, even overstayed with days. This was something everyone knew.
In view, I had given notice as to my apartment in Stanhope Gate and was leaving on the 1st October; we decided to go to a hotel outside London, in the country. So we went to Windsor, where we found a beautiful hotel, which turned out to be mostly a residential hotel, all left in Victorian splendour. We stayed there more than three weeks, for most of the time, just in bed, making love. Because Liz did not have many clothes with her, we did not enter out much. In fact, every evening, there was a four-course dinner downstairs, where one should dress. Considering we were staying in the hotel room for weeks, never going out, when we finally made an entrance going down the big staircase, with everyone looking at us, as honeymooners, as they knew we stayed in the room. The room was charming, with a lounging area and big bed and most of all with a big space for the bathroom. The bath could fit 3-4 people, like a jacuzzi, but it was not; however, we had much pleasure in this every day.
We found next door a kennel with Afghan dogs, exquisite dogs used for modelling when we did go out. I did take pictures of Liz with the dogs; however, they all lost later in London docks.
Continue with a password.
Birthdays
Elizabeth, my wife, never wanted to celebrate birthdays, and in fact, never arranged anything for me. This attitude to birthdays meant that a normal family event was taken out of our calendar. Her motto was a woman can't celebrate birthdays beyond 40, and she indeed kept to this. However, it did not stop me from celebrating her birthday. Shortly after (ten days) the birth of Mogens in June 1962, we all went to Tivoli and had a great dinner in Grøften, taking baby Mogens along, since we brought Mrs Christensen along to look after Mogens, we could enjoy the food and drink with my parents and some friends. We had, as a family, four birthdays in June, mine on the 7, Mogens on the 9 and Liz on the 19, with my mother's on the 27. This sometimes meant a large bill for restaurants in June.
In 1963 in Sweden, we celebrated at Tore Wretman's Operakällaren, which had just open again in 1961, great food. We got to know Tore Wretman, so in 1964, after Mark's birth, we went to Stallmästaregården many times, also for Liz birthday with some friends, including several from the International Women's Club. Tore Wretman, Chef to the Royal Court, laid the foundations for the Swedish restaurant scene in Stockholm in the 1960s. In 1963, we went with friends to the Club above Strand Hotel, to celebrate Liz birthday, there was a live bank, and one could dance. In 1965, after coming back to Mayfair, we went to Coq D'ore restaurant and in 1966, at the time the best French restaurant in the United Kingdom.
I organised a lovely 30 years birthday party for Liz at Mirabelle restaurant in Mayfair and gave her a beautiful watch, a Patek Phillippe (costing a fortune – later lost). I also arranged several more birthdays parties, including a 40th birthday at Kirsebærgården with many friends. One year we went to Hurtigkarl in the Royal Garden of Frederiksberg. Hurtigkarl refused to allow Liz a gin and tonic before his gourmet dinner, as always, as we had been there many times before; however, he gives in on her birthday despite serving champagne thereafter. However, Liz did not arrange such parties for me, although we would always have dinner out on my birthday.
Because of Liz attitude to birthdays, our boys also ignored birthdays and did not even know the dates of their brothers birth. Therefore, through my whole life, I have received less cards and greetings from my sons, in fact, in all a number which can be counted on two hands.
Romana had a totally different attitude to birthdays; she always wanted to celebrate our mothers on our birthday. Romana had for many years great birthdays after we met, her 40th we celebrated in Dorchester exclusive members club, where I made a surprise birthday party with many friends. Romana and I spent her 36th birthday alone in a bedroom, that was the greatest birthday gift according to her, the following years I arranged with her friends some real surprise birthday parties, one special great at Tina's next door to us.
Romana's birthday on the 10th of February was four days before Valentine Day. We never celebrated Valentine Day, as this was an American business model. However, this meant that roses were expensive on Romana's birthday. More so when we lived in the South of France. I recall paying €450 for 50 roses on her 50th birthday, €9 each; they wanted €11 initially. It was a lot cheaper in the New Covent Garden wholesale market in London, where I most times purchased the roses and flowers.
In 2000 we celebrated at Le Metropole, where we had stayed, in Beaulieu sure Mer and in 2001 we celebrated Romana's birthday in Italy at Grand Hotel Miramare, Santa Margherita Ligure (not far away from where I lived in Portofino in 1959), on our way from Frankfurt to Monaco with our new BMW (sadly they stole an expensive diamond bracelet I had given Romana).
At Romana's 50th, she did not want to announce around; nevertheless, we went with a few friends to Le Louis XV – Alain Ducasse à l'Hôtel de Paris in Monaco and had the best four-star Michelin cuisine. After that, Romana did not want to tell it around it was her birthday; nevertheless, we always celebrated with a few friends in 2003 at Hôtel du Cap-Eden-Roc at Louroc restaurant and in 2004 Grand-Hôtel du Cap-Ferrat, restaurant Le Cap. In 2005 at La Réserve de Beaulieu, we stayed, later after Romana's operation in 2007. Sadly Romana celebrated her last two birthdays, ill and in pain; I held her 54th birthday in Monaco Yacht Club with a small group of friends and family. Romana's last her 55th birthday, I held as a surprise lunch, again at the Hotel de Paris in Monaco, with lots of friends, having the whole place to ourselves for many hours into the late afternoon.
I did always see to my parent's birthdays. I even flew back from Italy to attend my mother's 40 years birthday, as a surprise, only finding that she, together with my stepfather, had gone to Ærø to stay for two weeks. I sent her from Copenhagen 40 large red roses, which she rubbed in newspapers, each rose every night in the bath, so they kept for two weeks (I still have the card I wrote with the flowers). On my mother's 50th birthday, I invited her and my stepfather to London, where we had a great birthday for her and on her 60th birthday, we celebrated at Søllerød Kro with my boys.
06.06.2021 – There are less than 2 hours to my 80th birthday, and entering my 81st year, an octogenarian, I feel so empty and frankly nothing; it is not like any celebration coming up. It is like my 70th birthday in Bad Harzburg – Nothing, just nothing except my Hanna, got me our Lady Rose, but no party, but did make me a nice dinner together with her daughter Sara, who had come from Zurich. Last year on my 79th, we went to Porto Santo, and Hanna gave me little Maya for my birthday.
Hanna came back from Poland on the 3rd with my favourite cognac Hennesy XO for my birthday. It must be 15 years since I tasted this cognac, but I used to drink many of these bottles back in the early 70s.
On my 75th birthday, no one even knew around me that it was my birthday, nor did I get any form of greeting from anyone, cards, email or letters – never mind my family. So I wonder what the day tomorrow have in store? Most likely very little; I have my depression, and the Covid-19 make it also impossible for us to go out for lunch or dinner; moreover, our two beauties limit this since we do not have anyone to look for them.
29.05.2021. One of my sons insists on using WhatsApp to text me; I hate this, as I find writing these small letters on the phone easy, it is not as easy as writing emails on my computer. I remember reading his phone records and seeing that he texted his girlfriend on average 70-100 a day when he was at university. How could he be studying? So I suppose he has been texting for more than 20 years, and he must be a pro, also as he daily is used to hitting a lot of switches, which I certainly am not.
In 1967, at 16, I attended with a few people a meeting in Grundtvigshus in Copenhagen to establish a Danish Society for UFO. This was the first meeting with a few like-minded people, all much older than me. They, like me, accepted the fact that we were not alone in the universe. After this meeting, I went a few times to listen to the various presentations about people who had experiences UFOs, some from the US, even claimed they have had contact with extraterrestrials. Since I left Denmark in 1958, I did not continue contact with the Danish UFO people.
As my sons know, I have always accepted the fact that we are not alone in the universe, even in our galaxy. I always believed that they are just observing us, as we would observe ants; moreover, I do believe that flying saucers are just drones and machine piloted. As no one in their right mind would land, a hundred years ago in a cannibal camp in New Guinea. We, humans, are still far too primitive.
I have not spent much time reading about UFO; through the years, most observation turns out to be explained; nevertheless, UFO is here. Former President Barack Obama acknowledged the existence of UFOs days after a CBS 60 Minutes TV special featured Navy pilots and their witness accounts with such objects. Obama said:" "What is true, and I'm actually being serious here, is that there's footage and records of objects in the skies, that we don't know exactly what they are, we can't explain how they moved, their trajectory," An interesting article in the Guardian: The woman who forced the US government to take UFOs seriously | UFOs | The Guardian
28.05.2021. My two dogs do provide me with so much attention and love, but they can be a lot of work. They are constant next to me and move with me wherever I go. They want to sleep at ten, so I have to take them up to the bed, where I cover them. If I am watching television Lady Rose will automatically go upstairs to sleep at 10.
They have two large areas to sleep in and expect me to come with a special treat before they sleep. There they stay, in our main bedroom, next to the balcony, so they can take a stroll if needed for water. They sleep during the night and wake me at 7, where the little one, Maya, will perform a dance that she wants me to take them down and out – always so happy. It takes me several minutes to wake up and even more to put some clothes on; she is sitting waiting very patiently. First, when I am dressed, Rosy gets up and come with us downstairs. After a few minutes in the garden running around and going to the place designated for their "big jobs", they both want some food before going up again and sleeping with me a few more hours. I am looking forward to Hanna coming back, as she normally takes them down at 7, she is right away morning fresh – not like me at 80. Mind you; I have never been fresh in the morning; I always sat on the bed as a little boy, saying I want to go back to sleep or asked where am I. Romana used to dance for me in the morning to music to get me going.
As to dogs following you around as I have them in string always, when we lived in Florence, one day, Liz and I visited some friends nearby in Toscany; when an older man in his eighties came walking, one could see he was very distinguished with a good life and background. Behind him came something like 50-60 dogs, all with some form of handicap, some with three legs, some with one eye or bitten off the ear, even a few blind and some showing clear signs of being in accidents. Every time he moved, they all moved just as one could imagine Jesus and his followers.
He was an Italian count, Conte Enrico Luling Buschetti; he had for 11 years been the President of the Italian Federation of Equestrian Sports, in control of equestrian competitions, polo hunts on horseback.
When I asked him about all his dogs, he told us that the Italians are bastards; they love children but not dogs or animals. They get dogs for Christmas or on holidays, a little puppy for their children to play with, and then they go later to the motorways and just let the dogs out of their cars, hoping they would be killed. All this without care for the dogs and indeed some of the drivers who hit them. The count decided when he retired to take care of these wounded and disfigured dogs and let them know that there were better humans than their first owners. So he had a big flock following around all day, like my two beauties here; I should like to have many more dogs and lots of lands around for them to play on. I understood he also had a large estate in the north, close to Venice, where he looked after old horses. I am sure they all followed him beyond.
26.05.2021. Today Hanna's mother, Zofia, was buried in Varka. I understand there were so many people attending, and the church was completely full, with lots of people standing outside. A special choir has been assembled from churches around to sing- Hanna's mother sang for more than 50-60 years in the local Church. There were seven priests at the funeral, and it was very moving. People were coming from all over the place. Far away, despite the Covid-19 restriction to attend her funeral. When people live in the same town all their lives, they get a big funeral, as families know each other, it is also the Catholic tradition to have big funerals.
Interesting, it is Mother's Day, the Catholic celebration of mothers in Poland today. It is also Vesak (Buddha's Day) is one of the most important Buddhist holidays. It is sometimes referred to as Buddha's birthday, but Vesak commemorates the birth, enlightenment and passing away of Gautama Buddha. In some countries, Vesak is a public non-working holiday, when thousands of people gather in Buddhist temples to celebrate the life of Gautama Buddha.
25.05.2021 – We had a beautiful full moon last night, but somehow even after sleeping near 10 hours, I still felt that I had been hit by a bus this morning at 10:00; I do not know why my pulse during the night can hit 195 without me knowing. Hanna has been very busy with the funeral preparation in Waka; however, after all the preparation, she had some sleep finally.
I predicted on the 14th of April (see: Home) that it must be the top of this crazy cryptocurrency bubble. Since we have seen the decline of most cryptocurrencies, including Bitcoin, this is not finished; the world wants to be fooled. However, this world is just outright crazy. I have no idea what will happen, as this is both a dream and a nightmare. To me, there appear to be no rules anymore (if there ever were), do anything and grab the money and make sure you do not go to jail. I have seen several times the TV program: Money Bots: The truth behind high-frequency trading | Business and Economy | Al Jazeera
I like that the highly professional trader, Haim Bodek says: If you are not cheating – you will be the victim!!! These are the most professional financial professional in the world, at times making billions in profit for the Goldman Sachs of this world. 
We had another beautiful day here in Madeira, and my two ladies are most happy, always next to me.
I have always loved this picture of my granddaughter Anna-Sophia:
24.05.2021 – It is hard to believe it is today 42 years since my victory at the European Court of Human Rights against Denmark. Time goes so fast when we are young; months and years seem so far away. At my age, one month seem less than a week. The weather is great with a little cloud and 28C; it is all so beautiful and tranquil. We never hear anything here, just all the birds.
The dogs have a good time; we had a long walk yesterday and will have one later today in the Eucalyptus forest just above us on the mountain. We walk there most days for a few hours, inhaling the lovely smell from the Eucalyptus trees, with the unpolluted wind flowing. Madeira has had many wildfires, and these eucalypt species are adapted to fire and resprout after a fire or have seeds that survive the fire. We walk with an altitude average of about 750-900 metres. Eucalypts were introduced from Australia to the rest of the world following the Cook expedition in 1770. Eucalypt plantations have a negative impact on soil destruction, inducing resistance to water infiltration and increasing the risks of erosion and soil loss; they are highly inflammable, aggravating the risk for wildfires. see: Eucalyptus – Wikipedia 
See pictures from our daily walks, including from the forest of tall Eucalyptus trees. Where we walk, I have calculated that we have been there more than 200 times and only twice seen people. So we are alone with real nature, the many birds, field mice and rabbits. I have not seen any sign of other animals. When we lived for years next to the largest forest in Germany, in Bad Harzburg, the forest (Harz) was practically outside the house; I regularly saw wild boars, the European wildcat and especially the Eurasian lynx, red deer and roe deers. Even a few times, the rare white-throated dipper, the black stork, and peregrine falcon. We had several families of raccoons living close by, and always our Lady Rose was concerned, as she could smell them. The story of German raccoons is fascinating, and I will tell you this another time, I came very close to some of them, and I do like them very much, as they are quite clever.
Going up the stair today, Maya caused me to fall, when a 100 kilograms body fall, it is not fun, but nothing is broken. The funeral of Hanna's mother will be on Wednesday. I received two nice emails from my granddaughters, which is always very warm to receive.
23.05.2021 – I decided to change this layout to really record my daily views and events in my life. Although I must add, I am NOT a writer; nevertheless, every day is another day for me, and something happens which I want to record. In the last weeks, I have been alone with my two beauties Lady Rose and Maya, my loyal dogs.
Sadly, Hanna had to go urgently to Poland for medical reasons, but most of all, her mother was ill. So I had to cope with being alone. Every task at my age seems difficult, even a simple task like putting on your socks and shoes, moreover, it takes me a long time to get going in the morning, and my two ladies can't wait for ACTION!! With hernias, diabetes, back pain and heart problems, I have to move slowly, although most people do not notice. I am sure one of my sons will tell me that it is not dignified to tell the world about such things and I should take my age with dignity and suffer in silence – but all of you will get old, hopeful for my grandchildren, they will be able to live a better lifestyle.
I try to walk with the girls every day up in the mountain forest, at least 5-6000 steps (3-4 kilometres). The swimming pool now averages 25-26C a day, so it is very inviting, and I try to swim every day. 
Today Hanna's dear mother Sophia died at the age of 91; she had just celebrated her name day on the 15th of May. Sophia had 5 daughters and 3 sons. With 8 children, a big family, a little like my wife's parents, they had 6 daughters and one son.
Yesterday, Hanna was in Warsaw at doctors, and her sister Ewa telephoned her and told her that her mother was dying (in Waka, where Hanna has her apartment, 30 minutes drive from Warsaw).  Hanna's mother did not die yesterday; in fact, I spoke to her mother on WhatsApp at 16:00, but she most likely was already on the way, and it was her pacemaker that kept her going. Sadly, she feared death, despite being a devoted Catholic and singing in the church choir up until a few years ago.
Unfortunately, I could not speak to her as she only spoke Polish. I wanted to tell her no to fear death – it is just a transition. She even told the daughters the last weeks that she wanted to be burned because she feared the pacemaker would wake her up in the grave; nevertheless, she will have a traditional funeral on Wednesday and go to the family grave. Somehow, I felt that she would leave this world, although she sat up and took some food yesterday. Seeing her on my tablet screen, I wished her a normal Polish traditional greeting, One hundred Years of Life.
Interestingly, Hanna went to her father's grave on the 17th of May, and he somewhat gave her a feeling, an indication of her mother's death, shortly after. Moreover, Hanna would not be in Poland, unless because of her medical emergency, she came on the last flight into Madeira, on the 14th of March 2020, before the Covid-19 lock-down. Hanna is totally devasted as to the loss of her mother.
Yesterday, I had a long conversation again with Hans Christian, possibly in vain. I truly wish to see him, Rosemary and my grandchildren in Europe and I have invited him here to Madeira, to come for my 80th birthday. I truly pray that he will be here with my beautiful grandchildren, they are all so clever, and I miss them very much, as it is now two years since I last saw them.
"Min Dag" is Danish and means My Day
At last, here in late 2020, I have realised that I need to leave my last moments, days, months and possibly years (if so) on this journey in the hands of this media. I will be writing and making video recordings – all being left beyond my life on this planet.
I intend to write what I feel and truly what is happening every day – to me and around us. I have written so much about the truth "My Truth" as we all sadly see different truths of the same events. I am making many hours of video to leave behind; I have left the password in the hands of a few trusted members of my large family.
I have written more than 2200 (A4) pages, something like 6-7 normal books, about my life and my ordeals through the years. Moreover, what possible positive experiences can be passed on. 
I frankly feel I have so much to pass on to my offspring, my grandchildren, their children and families. I have no selfish motives, only the primitive feeling and thought inside me, as a father and grandfather to protect and pass on – all experiences one wishes to pass on to one's love ones, for them not to suffer all the mistakes that I and most makes on their journey.
We have today such a great opportunity to pass on our thoughts, our experiences, our mistake and our success, with the advancement in technology. At least show a path, which we hope our offspring will take, not exposing them to our mistakes.
I hope this will leave something behind for my grandchildren and their children to read and become aware of long after I have left. We live in a time of great communication and a world that will be very dangerous to live in.
Looking back on my own life, the best education I received was my work experiences from the age of nine, later when I was 12-16, and apart from schooling and the true encouragement to read books and learn, everything I truly learned was from work experience and practice – it was the best education in my life.
Sadly, I found it very difficult to give these practical experiences to my sons because when they daily attended the best private day school in London, one can't send them out to work for shops and hotels; this was not done.
This was later also the situation with Alexander, my adopted son. He also went to the best private day school; moreover, as a single child, he was spoiled. Therefore, all my sons missed out on this practical education for life. However, they did learn a lot in their boardings schools later, as to independence.  Sadly, also all my grandchildren have been without such practical education.
Children's practical education is the most important; they can themselves fill their brains with books and other intellectual pursuits, but to learn how to live every day and live with others required practical experience. I am a strong believer in education, education and education.
As I have written in other places (see Wisdom), parenting is perhaps the greatest responsibility of our life and mistakes and wrong decisions as parents can ruin a family as well as the future of a child. Since I was a very young parent, without grandparents and family to guide me, I believed at the time it was my obligation to read a lot about parenthood. However, reading about this most important issue is far from as good as taking the experience from members of the family.
Most experiences we acquire in our lifetime will not be passed on to our descendants.
In the animal world, parents who are exposed to predators pass on information about risky environments to their offspring through changes in gene expression – but how that information affects offspring differs depending on the sex of the parent.