♥
My Dearest Love Romush
Without your beautiful love, unselfish devotion and care, I would not be alive to enjoy the best years of my life.
My life with a true soul mate and beautiful person, to hold you close and see you get up every morning dancing nude to a new day.
Our harmony together is One Soul
Thank you so much. God bless your soul,
To eternity my Love
Yours to the end of the universe
We are merged deep in my Heart & Soul
Mose
♥
About soul mates 
The concept of soulmates can be a polarizing one, especially depending on how the term is defined.
Understandably, it may seem implausible that there's one (and only one!) ideal match for each of us out there. However, if your definition of a soulmate is broader — someone you have a strong connection with, who gives you a sense of peace and rightness and yet challenges you to grow and be the best version of yourself — it's a lot easier to buy into, especially because you can have many of those encounters throughout your life.
I read recently that they asked relationship experts ― including a matchmaker, a wedding officiant and marriage therapists ― what the term soulmate means to them and if they believe in the existence of such kindred spirits. Here's what they told us:
A soulmate relationship is one where you connect easily and instantly. But it doesn't mean the relationship comes without effort. It did take some time for Romana and me to truly connect.
I believe in soulmates to an extent. When you meet someone that you just click with on many levels and things feel easy with them and you feel very happy and fulfilled, this can be a soulmate type of feeling. I don't think there is only one; there can be many people in the world that you would click with if you met them.
"The limitations of this idea are mainly that people think they won't have to work on their relationship if they met their soulmate. The truth is, no matter how happy you are or how compatible you are with someone, you will always have to be careful that you act lovingly and that you don't begin to take your partner for granted. This is most important"
The idea of soulmates may give people unrealistic expectations about love.
"People leave relationships in search of that one person 'they're meant to be with.' That's a fantasy. There is no such thing. People are package deals. There will be aspects of each partner you love and aspects that will drive you crazy – Romana only drove me crazy with Love. You can trade one person in for a new and improved model, and after the newness wears off, you will be back at square one, needing to learn relationship skills to make love last." 
Soulmates are people that are meant to be together, in spite of the obstacles or adversity they may face.
I personally believe in soulmates. There are some people who are truly meant to be – like Romana and me.
"Many couples I have known married have overcome racism, cultural and religious challenges and/or critical families because they knew they were meant to be together. Their connection was so deep, even though they hailed from different worlds.
"Any time I see the love that strong and committed, or people brought together by everyday miracles, it reconfirms my belief in soulmates.
"Soulmates still have to pay the bills and deal with medical appointments. They raise kids and experience the messiness of life and the realities of growing and growing older together. But people who see themselves as two connected souls tend to share a sacred bond." — 
Soulmates are a symbol of the universal hope that someone will love you unconditionally in spite of your flaws and baggage.
To me, a soulmate is a symbol. It's a symbol of hope, connection and healing (particularly attachment-based healing) that we as humans desire and crave. It's a symbol of feeling that — in spite of our histories, pain, dysfunctional relationship patterns — we will 'click' with someone and will be able to make it work. The soulmate symbol creates hope and speaks to a desire to be loved, seen, heard, understood and to feel worthy. And even more so, a soulmate is the hope that we will be loved, seen, heard, understood and worthy, despite our flaws.
"While I think hope and symbols are important, I try not to lean into them too hard as they can sometimes take away someone's sense of agency in their own situation. Our relationships and future relationships may be influenced but are not determined by what we have or have not experienced, and we can have agency in that process." 
Soulmates aren't perfect for each other in every way, but they're on the same page where it counts.
Even as a matchmaker, the word soulmate feels a little contrived. It's a really beautiful thought, but also a really good excuse to take a pass on relationships that aren't 'perfect.' Since today's app culture has made it easy to think there's always a better choice out there, the idea of a soulmate becomes a limiting factor, asking partners to expect they will get everything they need from one person.
"The fact is, the person for you will be imperfectly perfect. I believe that everybody can have lots of soulmates. And so often, for better or for worse, it comes down to timing, where two people are in their lives and being truly on the same page." 
People sometimes mistake the rush of excitement you experience when love is new with the feeling of connecting with a soulmate.
"Many of us equate good chemistry with true love, and bad chemistry with lack of love, yet we have trouble knowing which is which. The question is whether it's the kind of chemistry that will produce a healthy relationship.
"Chemistry overpowers the strangeness of being new to each other and makes you feel close right away. While this is often helpful, it has some pitfalls if you let your chemistry lead you without conscious thought. On the other hand, many excellent lifelong relationships began without a lot of chemistry. People who develop a friendship first often don't generate chemistry right away.
"Chemistry is powerful, but if you focus too heavily on whether or not you are excited about someone, you may discount the very real possibilities of the kind of love that grows slowly, such as a friendship that eventually becomes a loving relationship." 
Connecting with a soulmate is about finding a person who sees you and loves you for who you truly are.
″'Soulmate' is one of these terms that lends itself to misunderstanding and sometimes scorn. If overly romanticized, like searching for that 'one true soulmate,' it becomes a rigid and impossible-to-achieve ideal. If seen in an overly clinical way, it's easy to dismiss the concept altogether as unrealistic. Yet if you break it down into its components, what does sharing your soul with someone mean?
"Joni Mitchell has a line in one of her songs that I love about love being like touching souls. It's really important to know what you mean by 'soul' in order to share yours with another person. This includes the soul as your authentic, 'best version of yourself,' as well as when the soul includes a spiritual component. What do you need from a partner, in terms of qualities that they demonstrate, in order to share who you are in a way that encourages connection, safety and trust? Knowing your emotional needs intimately and emphasizing the qualities in a partner best suited to meet them is one way to connect to a soulmate." 
♥
Romana stayed with me in Berkeley Square for a few years when we decorated 37 Green Street
"A Nightingale Sang In Berkeley Square"
That certain night, the night we met
There was magic abroad in the air
There were angels dining at the Ritz
And a nightingale sang in Berkeley Square
I may be right, I may be wrong
But I'm perfectly willing to swear
That when you turned and smiled at me
A nightingale sang in Berkeley Square
The moon that lingered over London town
Poor puzzled moon, he wore a frown
How could he know we two were so in love
The whole darned world seemed upside down
The streets of town were paved with stars
It was such a romantic affair
And as we kissed and said good-night
A nightingale sang
A nightingale sang
I know 'cause I was there
That night in Berkeley Square
There is several versions:
When true lovers meet in Mayfair,
So the legends tell,
Song birds sing,
Winter turns to spring,
Ev'ry winding street in Mayfair falls beneath the spell.
I know such enchantment can be,
'Cause it happened one ev'ning to me.
Chorus:
That certain night,
The night we met,
There was magic abroad in the air.
There were angels dining at the Ritz
And a nightingale sang in Berk'ley Square
I may be right, I may be wrong,
But I'm perfectly willing to swear
That when you turn'd and smiled at me,
A nightingale sang in Berk'ley Square
The moon that lingered over London town
Poor puzzled moon, he wore a frown
How could he know we two were so in love
The whole darn world seemed upside down
The streets of town were paved with stars
It was such a romantic affair
And as we kiss'd and said "good-night"
A nightingale sang in Berk'ley Square
How strange it was , How sweet and strange
There was never a dream to compare
With that hazy, crazy night we met
When a nightingale sang in Berk'ley Square
This heart of mine beat loud and fast
Like a merry-go-round in a fair
For we were dancing cheek to cheek
And a nightingale sang in Berk'ley Square
When dawn came stealing up all golden blue,
To interrupt our rendezvous.
I still remember how you smiled and said,
"Was that a dream or was it true?"
Our homeward step was just as light
As the tap-dancing feet of Astaire
And like an echo far away,
A nightingale sang in Berk'ley Square.
I know 'cause I was there,
That night in Berk'ley Square
We were there indeed!!
♥
Just a few places from where I have to write about our visits and love
We were so fortunate to travel so often to so many places in Europe, and a few outsides, due to The Mayfair Society and Mayfair Event Management, as we were offered much-reduced payments for our luxury rooms and stay. This has always been the norm in the hospitality industry. This meant that Romana and I many weekends just went to Heathrow and off to some fabulous days and nights ahead. As I mentioned other places, Romana preferred to keep this private – just for her and me.
Salzburg
Paris
Innsbruck
San Marino
Portofino
Cuneo
Rome
Florence
Verona
Asti
Aix-en-Provence
Basel (Art)
Namur
Dijon
Lyon
Bordeaux
Clermont-Ferrand
Saint-Sebastian
Toulouse
Perpignan
Marseille
Chantilly
Brittany
Anjou
l'Oustau de Baumanière
Auvergne
Madrid
Barcelona
Dublin
Gidleigh Park Devon
Waterford
Villa Feltrinelli on Lake Garda
The Gritti Palace, Venice
Crillon Le Brave, Provence
We went through all the Relais & Châteaux
Grand Hotel de Bordeaux
Grand Hotel Excelsior Victoria, Sorrento
Hotel Caruso, Ravello
The Westin Excelsior, Rome
Hotel Du Cap-Eden-Roc, France
The Ritz, France
Brenners Park – Baden Baden
Badrutt's Palace Hotel – St. Moritz
The Carlyle – New York
The Mayfair Regency – Chicago
♥
The flowering Chestnut Tree
The swaying of lavender to the flimsiness of the wind
The twinkle sunbeam among the butterfly's wings.
My Romana lustrous body, lusty – lustiest of bodies and luscious lips.
There, with the flowering almond and chestnut trees. and soon with the cherry tree to come on to their purple glory
This was my hour of glory in the arms of Romana
I want this moment to solidify forever in eternity.
                                                                                      Mose
♥
Romana's and my favourite places in Mayfair

When The Dorchester Hotel re-open in 1990, after extensive restoration, I became an honorary member of the Dorchester Spa. A place Romana and I started out many mornings, leading the way to have breakfast at the hotel. For years we went to the Spa at the hotel in addition to using the hotel's many exclusive venues, the various restaurants and attending many large balls, Christmas Parties and even Romana's forty years birthday at The Dorchester Club.
Romana and I went for several years running in Hyde Park, in the morning, after Alexander had gone to school. Whereafter, we went to the Dorchester Spa and then put all the calories back on with a large "English" breakfast at The Dorchester. Well, we both enjoyed every moment.
Romana's and My Numbers

In March 2008, in the days just before Roman's transition and death, Romana told me, "if there is something beyond, I will try to communicate with you with a number you know". For years, Romana and I said that one and one make three because we were so much more together. So 1+1=111 (we wrote it like that). We also used to say that we together were One. Continue.….. Our Numbers and More
My Romana
LOVE KNOWS NO DEATH
My greatest achievement in life was my relationship with Romana
How can I begin to write about my dearest, my love Romana, words could never do her justice. Our life, joy was every day steering in my face. Our love, life completeness with the path to eternity.
Love is Life's Greatest Treasure
My life has been so rich, in receiving and giving love. The foundation of all spiritual practice is love. Romana not only give my body and mind so much love, but she also gave warmth to my soul. For me, Romana was the best human being that I ever had the privilege of being in the company of in this life.
I lived for many years in Berkeley Square wondering why; I had come back to Mayfair, why and why, since the place never gave me anything back – a little like Zurich. In speaking about this, I used to tell people, there must be a reason why I find myself back in Mayfair, a place I already stayed in 1960 and lived with my young family later in the 60s. The reason came into my life in 1989, and as the famous song start: When true lovers meet in Mayfair –  And a nightingale sang in Berkeley Square. Love is synonymous with destiny and we were meant to be together on this journey.
Our life together was full of light 
I have decided to write about Romana and me and our life from the first day we met, until, I was holding my Romana on the 26th March 2008, leaving this world, 45 days after her 55th  birthday. I was so lucky in life to have the fortune to have met Romana. Romana was called in Polish many names, all based on her Christian name Roma; because Jadwiga, Romana's mother called her Romusch; I also called Romana, Romusch and Romuscja.
Anyone who enjoyed the love Romana and I shared, will never replace it with the making of billions and great esteem. I am very thankful to have walked with Romana for nearly 19 years on this planet. I was so fortunate.
I want to write for two reasons, firstly, most men (99%) who will read this will not believe such a woman exist, such an exceptional being, therefore, it is important to tell our story, and give hope to every man who has only had bad experiences with the opposite sex. I recall so many moments when my chest swelled with pride at all the attention Romana lavished on me. Most days, our day would start with Romana getting nude out of bed, and after a little stretching, Romana would be dancing in front of me nude giving me all the inspirations and desires for the day. I take a long time to wake up, just like a little boy, whereas Romana was awake right away – ready to go.
I am still devastated by grief and at the time I am dwarfed by my own words writing about our life together. The last decade's event is nothing against the scale of the loss of Romana. In fact, I do not believe that I would have survived without all these beautiful memories and the grief, however painful.
Further, I am writing in honour of women in general and specifically to my soulmate Romana, who was a special human being. Romana's middle name was Eva (Ewa), a name meaning "the mother to all living".
I need my diaries, but in the meantime, I will write in detail about our lives for more than 18 years. All the places we went to and how Romana wanted most things to be a secret, to Alexander, her son and my adopted son, her girlfriends and others, as to the so much enjoyment we had together.
Romana knew about jealousy and how people really are. It did annoy me at the time that we sometimes, had been away in some fabulous place and had some great moments, and returning to London, I could not mention it to anyone. A few times I could not keep quiet and did mention it to one or two friends quietly.
Happiness, we are confidently assured, is the objective of life, and it is something we "get" by working hard, shopping, playing and exercising our part in the drama of late capitalism. Because capitalism loves the goal of happiness – since it can offer endless products that will promise it, when they fail to do so, it can offer alternative products which make an identical promise. And so on. Commerce thrives on unhappiness. You'd be happy if you were thin enough, fit enough, drive this car, travel to this place, entertained enough – and here is the product for you. Except, all these products do not give you the ultimate happiness. The happiness I enjoyed with Romana.
Like money can't buy you, love. Happiness is good for you and for those around you – and there is no greater favour you can do for loved ones than show them your happiness. I tried and many times did overcome myself and my depressions to feel totally happy, and I did have many such moments, in fact, so many looking back today, all thanks to Romana. Sometimes, happiness, which is relative and can't be measured, is, therefore, something we first like I now can look back on reflect on, also in a relative sense. 
As to Romana's last 15 months, the Corinthians:
"My grace is sufficient for thee; my strength is made perfect in weakness"
So much reminds me of Romana and her last 15 months struggle and onslaught, the debilitating chemotherapy. Romana had toughness in the form of sheer resilience and persistence, this marked her character with grace, showing when her body was most weak – her true strength and spirit. Alone dealing with the successive bouts of treatment in Switzerland, still to the last giving warm compassion and sparkle to other patients at the clinic.
I have witnessed my fair share of those who, through illness, has become embittered and prone to misanthropy and the rejection of all social obligations, this was the opposite with Romana.  
To me, my life would have been nothing without Romana, I failed so much and despite having much happiness, the huge amount of happiness with Romana over shines everything. Romana was such a special and exceptional human being that I could in no way hope to become in this life, but have aspired to, more so after her death. These years have allowed me to complete my own self-development and move towards death. Now I know that death is a transition and part of a much larger journey, offering a powerful opportunity in the process of soul growth.
Although, I have expressed many times that the events in Denmark changed me greatly, suffering severe depression, PTSD, and worst, my belief in myself. I am ashamed that Romana had to take so much of this, not that I bothered her with all the gory details of my depressions, nor what happened during the 309 days of solitary confinement. For some obvious reason, it was really a subject never talked about.
Romana was a sunshine from the moment her eyes opened, with her first look at me with a smile, a smile all over her face, in her eyes and in all her expression. Therefore, I was right from the morning surrounded by the warmth of this beautiful human being, like I was wrapped in a protected cloth and nothing would hurt me. On reflection, Romana carried the Holy light and that always gave me comfort. 
I am writing a book, in writing such a book, I will revisit so much memory, which will be overpowering in my grief, but it will also give me pleasure I hope, I intend to travel to a few of the places we both loved and had so many happy moments. As Romana always said, life is made of moments.
Romana was not a famous actress, author, poet or creative writer, artist or even an academic. She did not create a company, organisation, or anything which would make any real headlines. Romana was a daughter, sister and mother, and a good human being. However, she was so much more than all this, Romana was a genuinely special and truly good human being, always manifested a high sense of morals and ethics in private, which I have not seen among anyone in all my years. What is more, Romana was always making me feel I was her entire universe. Many women before Romana had for periods made me feel like this, but Romana let me always feel high in love, providing sunshine to my soul every day.
Even when Romana knew she was leaving this world, she showed so much courage day after day for the 15th month. I noted down at the time: Romana has exhorted us to be courageous and not be afraid. Romana repeatedly said to her son Alexander, friends and me: 'Don't be sad, because even though I'm about to die, I've lived the life I wanted to. The best have been the last 18 years with Mogens, a mighty soulmate", Yes, I will always recall her "fearlessness, wit, talent and beauty".
The extraordinary beauty, strength, and vitality of Romana's death, witnessed by Alexandra, Romana's older sister and I, was the greatest single event in my life, and gives me comfort every day, as I soon will pass over.
Romana was a queen to her sex, aesthetically blessed, Romana could act like an 18 years old girl, a silly girl, and playful naïve, but with the mind and experience of her real age, totally comfortable in her body and knowing her femininity and radiance, most of all for me our love. Romana knew that sex is the greatest expression of man's enjoyment of life. Romana could make every moment special, with constant surprises. I really never knew what she would be up to, she had her own mind and at times very mischievous.
Under different circumstances, Romana could have made a great contribution to Poland or to any society. Although Romana considered the job to be in charge of the Polish Institute in London (Portland Place), she decided against it when she realised the corruption involved. Further, we decided to spend more time in the South of France together – as always. Like I had early in our relationship said no to becoming a Danish member of the European Parliament, as I knew this would bad interrupt our special love and togetherness, Romana felt the same as running the Polish Institute in London would keep us in London and not enjoying ourselves in the South of France.
Further, Romana found it difficult to understand, the Polish people in Poland, their outlook, and primitivism and corruption. How total unscrupulous they could act, mostly without morals and ethics, the many years under the communist, meant that stealing from the state was an accepted way of life. The Polish people's attitude was so difficult for Romana to comprehend, as she had been living too long outside. Interestingly, at the time, just after the fall of Communism, women in Poland were the best choice normally to do business with, the men were all businessmen without any knowledge of the business, and women had better intuition.
This to a great extent guided me in not getting involved in Poland. Also, in my field of finance, understanding the language is a prerequisite, because, big money is made with contracts and business terms, which one truly has to master, e.g. in investment banking, insurance, and direct dealings with investors.
Having forecasted what would take place in Poland and indeed Russia, I do at times regret that I did not get involved, but then Romana and I would never have our good life. I can't regret that, but as many people will confirm, I did predict a lot of things, including the all-out importance of the Internet, and the huge potential of financial services in many countries.
During the years I led The Mayfair Society and The Mayfair Trust, Romana and I were constantly "at parties." After all, we had 31 embassies in Mayfair, and there was always a cocktail party or two around, also in Belgravia. Moreover, Romana was always active in planning the next party and event.
After we had hosted hundreds of receptions, including openings in the Mayfair galleries, and Romana had organized many product launches in the galleries, Romana's reputation for parties and event management reached Downing Street. This resulted in the Board of Trade contacting Romana to arrange significant events and balls for the inward investment program for the United Kingdom.
Romana formed a Mayfair Event Management company and organised many large events in the following years, including major balls (up to 1700 people) at the Dorchester, Claridge's, the Four Seasons, and Grosvenor House Hotels.
We never left each other apart for long, only a few times. I still recall in February 2005, when Romana went to South Africa for 3 weeks to see her girlfriend Tina and other friends, I had a lot of work to see too. I was driving back from the airport, on the motorway, all the way with tears in my eyes, rolling down my chin, I just could not face Romana being so long time away, and it was awful for me. I felt lost without her.
It was so difficult to say goodbye to Romana at Nice airport, without showing my emotion. I knew Romana would not have gone if she really knew how bad I felt. Little, did I know, that my Romana would leave me for good, just three years later.
This shows, that we must live every day, we do not know what the next day will bring or what there is just around the corner.
I have written before, that Romana lived for me, but I also lived for Romana. Nothing was more important for us, from the morning rise to going to bed. Romana was not truly interested in jewellery, expensive clothing, and cars. She rarely went to a hairdresser, and when she mostly regretted it. As for clothes, yes Romana loved shopping, but never at any price, neither was it really important.
As to jewellery, Romana liked anything to dress with, but nothing expensive, as she always was concerned about losing it, moreover, she had the little jewellery she had left from her husband, seeing it being stolen by two break-ins. Also knowing about jewellery, having worked a time for one of the most established secondhand jewellers on Bond Street, Romana knew their profit margins and the expensive ring did never reflect the true price.
Most men, I have advised through the years or were close to, always complained about their wives spending money, either on themselves, clothing, cars, or jewellery.  Romana did do none of them. A girlfriend of Romana would once a week spend nearly £500 (in 1992) at her hairdresser, in South Moulton Street. Romana could, but never did spend much on hairdressers, moreover, had any need to because she believed most women needed some comfort going either with themselves or how they looked at themselves.
Romana was 100% comfortable in her skin. Romana went with a Polish girlfriend to Milan to shop for the weekend in September 2006, the girlfriend would spend close to a million euros, every year on clothes. Apart from having good food, wine, and lots of laughter, Romana found it rather absurd and boring, because she did not find her girlfriend was happy or joyful, spending hundreds of thousands, and neither specifically cared much about the individual clothing. When Romana came back, she said, she did not want to do this again and much prefer our shopping in Como or San Remo with me, always showing each item, "like my own private model show" always smiling, even dancing.
Going shopping with Romana always turned out to be an enjoyment and a true experience. Romana would always make it a happy time, and one truly felt so good, even in the market, when Romana could have found a handbag for £10 or less. Although we paid hundreds of pounds/euros, even £750-1000 for certain handbags, Romana would have much more use of her cheap copy or "inspired" label bags. She preferred an inspired label bag. As to paying hundreds of pounds, this we did to people in Italy, who made the real bags.
I never forget the times Romana told me that she was shopping with a girlfriend on Bond Street, Romana placed a Louis Vuitton bag on the counter, and a shop assistant started looking closer at the bag and even called a manager, and admired Romana's handbag. Since our friend had supplied it, and the normal price was £4000 plus, Romana becomes concerned, but they pointed out all the original features of the bag and told her that this specific bag had not arrived in London before in some weeks.
The same thing happened once with a Dior bag in Bond Street. During the time we had regular promotion events in the galleries, Romana received nice bags from Redwall, the makers of Prada, Armani, and Moschino. And from France, also bags from Longchamps and Chanel. Redwall is the biggest manufacturer of handbags in Italy, making for many designers.
My memory of Romana is enshrined in my heart forever; I still remember an extraordinary exhilaration, resting my head next to her heart and her soft sweet breasts, with the promise of unlimited happiness. I could rest, my careless, exhausted and fulfilled body there for hours and called it the "best place in the world". Which it truly was for me to eternity.
When I have enjoyed so much love and the total completeness of everything, happiness, fulfilment and unselfish love, what is there left in life? I had it all!!
I like red and Romana looked good in red, I specific liked some of the red dresses that Romana used at the Venice Carnivals, see
My Romana and I like violin concerts and had a special affinity for Wieniawski from the start of our love. Henryk Wieniawski was a Polish virtuoso violinist, composer and pedagogue who is regarded among the greatest violinists in history. "The orchestral introduction to the Wieniawski here is warm and resonant, but well-balanced and affectionate, and Bomsori Kim's entry picks up the mood with a centred tone and a strong rhythm."
My Romana loved most music, we daily had music playing, from Chopin to Mozart, but also pop music My Romana could dance to or even sing to me along with the music playing. Romana would sing to me "Did you ever know that you're my hero and everything" Romana was my true Hero!  Romana always ending her dancing with "Que Sera, Sera (Whatever Will Be, Will Be)", first sang by Doris Day. Romana also liked Louis Prima, the Italian-American singer, and Sophia Loren singing and dancing "Americana". Yes, Romana could make every day a dancing party! 
We both love Chopin and the last hour before my dear Romana left this journey, resting in my arms and on my body, holding her, I played Daniel Barenboim playing 11 Nocturne, the last music that Romana heard in this life; Chopin: Nocturne Eb, Op.9 No.2.
♥
This is Just to Tell You
I have tasted your Love from the running fountain of untold Joy and Happiness
I am chained to my memories, chained to the moments with Romana. When Romana left this journey, I had no place to go.
I have walked along the beautiful path of paradise holding your hands, intoxicated by the scent of all the exquisite flowers and from looking into your face and smile that daily gave warmth to my soul.
I have swum with you at midnight, with dancing stars and flying bats above our merged bodies of pleasure
I just can't wait to look into your soul and merge my spirit with yours in eternity.
Mose
♥
♥
O my Romana", cries out from every pore of my body,
from every particle of my soul
I kneel in gratitude 
♥
My Romana –
More radiant than the Sun
Purer than the Snow
♥
♥
Romana and I created Love
Love is energy
Energy is eternal delight 
♥
My Romana, we pledged our hearts
but our souls poured into each other
merged in eternity
The love in your smile and eyes,
in your voice and touch
forever warm my soul
and lives every moment
in my mind and beating heart
I can't wait to hold you again
♥
Love is patient, love is kind. It does not envy, it does not boast, it is not proud. It is not rude, it is not self-seeking, it is not easily angered, and it keeps no record of wrongs. Love does not delight in evil but rejoices with the truth. It always protects, always trusts, always hopes, always persevere.
Corinthians

13:4
♥
♥
♥ Beauty does not grow love, love grows beauty
♥ Romana and I lived our Dream
♥ Romana was All Woman
♥ Our glass of drinks could be empty to be filled – but never our glass of love
♥ Romana said that her love was forever flowing and the glass would never be empty.
♥ 
Another willing and yielding day
The sacred of her body
Her calming and excellence to my soul
I am drawn by her breathing and love flesh swelling red lips touching mine in love hot and enormous
The ripe fruits in the garden on the hillside, where the eyes of the eagle watch over its wanting prey
There the shadows beneath the trees with their leaves dancing in the breeze
I gazed for a moment of eternity with love in my heart and happiness in my mind
There with the loveliest of trees surrounding our glowing hillside
That takes my breath away will these dreams
Our fruit-bearing hills, with figs, cherries, peaches and apricot, not to mentioned lemons, oranges and almonds
with the purple glow of lavender with the dancing butterflies
where the sunlight gleams and dance on the pool water.
Where the bat feeds to the starlight and the moon dancing on the water of the pool 
Romana, you brought me the dreams that took my breath away
♥
Our Loving Walks
(Our Morning Walks in Cap D'Air 2000)
In the first days and months of the new century
Along the waterfront with the flurry from the waves hitting us and making us wet, the stairs, the Rock and Mala beach
Our walk-in Holly togetherness in total love and affection for each other.
The thunder of the unstoppable waves hitting the rocks
Romana dancing in between, in front of me to the sound of the sea and waves hitting the rocks with the gentle breeze flowing around her beautiful body and mind with the golden hair like a halo.
The scent of flowers, the fresh sea wind and glorious vegetation from the gardens.
Romana  – You opens the gates to the body and the soul
The long legs, the bended knees with every step, the long legs leading to Heaven, from the hip socket carrying the trunk above, the breastbone and full breast, with those unseen kissable nipples.
All in front of me her heel, ankles, leg-fibres, under-leg, long and thin, knee, knee-pan, upper-leg and thighs, with all the shapeliness of her bum/buttocks leading to the wonders of my mind.
A scent of her morning smell, flow by in the breeze, as a newborn flower and the white magnolia opening for the day, even better than the smell of a  fresh clean baby. I am exhilarated, each breath deep, pure, and sweet, my heart strong and full of love at its most divine moment.
The blond hair flowing down her kissable peach neck and back, sometimes outside a cap, like a young schoolgirl.
Moving those long finger hands, wrist, wrist-joints, the palm and knuckles, those forefingers, finger-joints and long fingernails – all to an air kiss towards me from those smiling eyes and lips.
Romana encircling me with her arms, the arms of a beautiful warm and strong woman, a loving mother, the arms of a friend and kindred soul mate, the arms of a spirit who opened my body and soul.
For a perfect moment, our hearts and our eyes spoke.
Romana dancing and fluttering in the morning breeze, with a twiddle/twirl and twist like the youngest of girls the waves dancing to their own beat from faraway places dancing to please the wind along tossing her head with the golden hair flowing loose around.
The toasted rustic bread with butter melting and our espresso to a new day.
The 88 steps at Eden Palace rock, from Mala beach, counting out loud with the movement of Romana's beautiful body in all its glory in front of me
Her voice and smiles,  the flow and ebb of the sea
the flowers in glowing colours that open with the sense of delights
The birds that sing in the loveliest of trees, our magnolia with the strong scent
The clouds that slowly wander over the mountain high, some lonely until they merge to finally disappear dancing in the little breeze
Mose
♥
A Moment In Time
With a gentle breeze over Mont Agel
with a scent from the magnolia tree
I lift my glass of wine and gazed across the Mediterranean Sea
Here I am, sitting in true happiness
with my soulmate joining me shortly for a well-prepared delicious meal
Close by lies my faithful Amey
observing me and every moment
Theresa brings the dishes to the table
The happiness in my mind and soul
matches the fullness of the body of the wine.

The sun is setting over Cap Ferrat and to the west
for another night of more pleasure and fulfilment
With the love of my life, my beloved soulmate
just arriving at the chair next to me
looking like a heavenly Angel, my everything.

My only and eternal blessedness
Romana the stars in your eyes
will bring our love into eternity.

To the end of all universes

To the end of the living earth

To the end of yesterday with no tomorrow

To a time and space with no end

Infused and surrounding all life
with eternal Love.
Uninterrupted ecstasy.
A lover's kiss. Its eagerness, its fierceness, its warmth, expressed the god its parent. But oh! Its sweetness, and its melting softness
With trembling in my limbs, and fever in my soul, I ravish'd it. Convulsions, pantings, murmuring shew'd the mighty disorder within me.
But love, almighty love, seems in a moment to have removed me to a prodigious distance from every object but you alone
Wine awakens and expresses the lurking passions of the mind and the overflowing of my heart
Mose
♥
♥
Romana
Your spirit held my hand
and embraced my mind and body alone in my dank solitude
The memories of you
gave me strength and comfort
in a place of evil and
grown men's despair
Your Love I carry deep
in my soul to eternity
♥
♥
My Romana
To just have your breath next to me
knowing your presence indulging my mind and body
Looking into your cheeky eyes with all the promises
with your warm lips and kisses tingling my inner desires
your love overflowed all my lakes of tears from the hardness of life
You let the sunshine into my soul and showed me the path
Thank you – your Mose for eternity.
♥
♥
Romana
In your eyes I see
the future full of love
full of hope and happiness
full of excitement and achievements
In your mouth I see
the voice of my inner mind
the warmth and most sensual kisses bestow upon man.
In your arms
I feel the highest contentment and happiness.
with no more longing
the complete security of love
and the sharing of everything with you
in total surrender to our love
♥
The picture below is from Le Louis XV – Alain Ducasse à l'Hôtel de Paris, Monaco, one of Romana's favourites and the place for her 50th birthday and her last birthday in February 2008.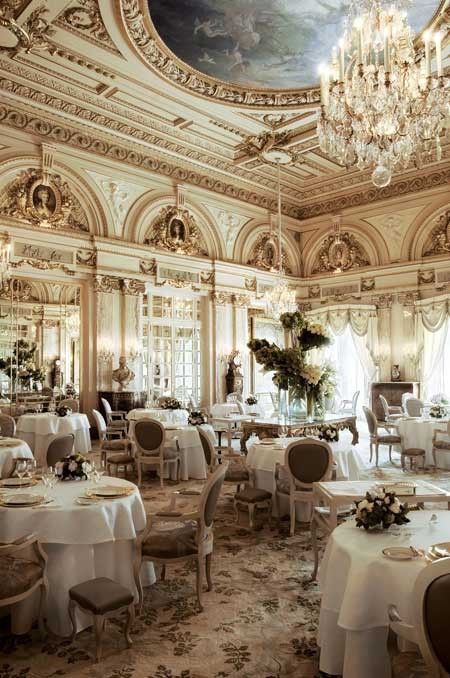 ♥
The picture above shows Romana's and my favorite breakfast place in the South of France La Réserve de Beaulieu, a small hotel with personal and professional service. We stayed many times there and later many times for breakfast or a special dinner.

The picture below shows Romana's and my favorite place in Italy for breakfast place in Italy, Splendido in Portofino. A place where I first came in 1959 and have enjoyed it from time to time during the last 60 years.
Below – our regular late breakfast in "Heaven", at HOME  – I look forward!!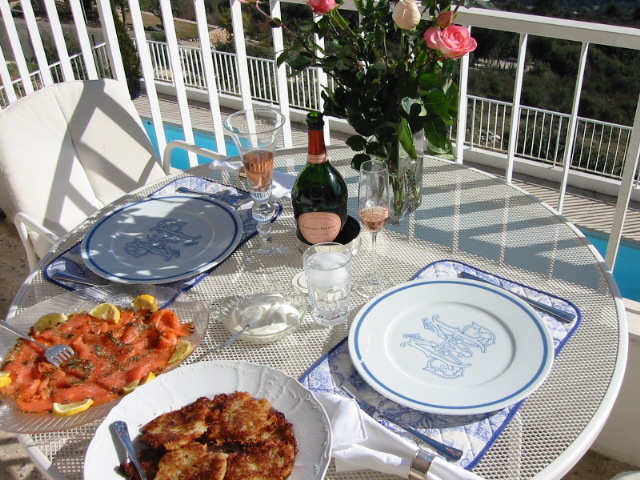 1989 was the most important year in my life
The 24th of May 1989 was important for me because I won against Denmark at the European Court of Human Rights. This was a near nine-year struggle and hard work, not to forget the suffering of 309 solitary confinement and 1492 pre-trial incarceration. The first-ever win against Denmark since near 40 years earlier, Denmark become a member of the Court. Denmark had never lost a case. Geoffrey Robertson claim in his new book: Rather His Own Man: In Court with Tyrants, Tarts and Troublemakers, that my case was the most important case, as to human rights, that he has been involved in and he was involved in so many cases in Strasbourg and throughout the world.
Geoffrey is the leading Human Rights barrister in the United Kingdom and a United Nation Judge. He writes in his legal memoirs "What is crucial, and now accepted throughout Europe as a result of the Hauschildt case, is that the judge at the trial itself must not be the same judge who authorised the police investigations into the suspect on the basis that he is likely to be guilty, or has charged him on that basis."
Speaking to human rights lawyers, also in Denmark, they told me the very important contribution my case was and the judgment, to Human Rights and to the western democratic society. So at least I made some contribution to society. It is clear that without the judgment against Denmark, the changes in the Danish society, as to the appointment and administrative law, would never have been made. The Ministry of Justice had total power.
However, that was really nothing for me at the time, since within a few months, I met the love of my life Romana. That is why 1989 is so special to me. It is also my Chinese sign, the year of the Snake. It certainly was a good year for me, but a momentous for the world.
1989 changed the world
Timothy Garton Ash wrote in the Guardian:
"Nineteen eighty-nine was the biggest year in world history since 1945. In international politics, 1989 changed everything.
It led to the end of communism in Europe, the Soviet Union, the cold war and the short 20th century. It opened the door to German unification, a historically unprecedented European Union stretching from Lisbon to Tallinn, the enlargement of Nato, two decades of American supremacy, globalisation, and the rise of Asia. The one thing it did not change was human nature.
In 1989, Europeans proposed a new model of the non-violent, velvet revolution, challenging the violent example of 1789, which for two centuries had been what most people thought of as "revolution". Instead of Jacobins and the guillotine, they offered people power and negotiations at a round table.
With Mikhail Gorbachev's breathtaking renunciation of the use of force (a luminous example of the importance of the individual in history), a nuclear-armed empire that had seemed to many Europeans as enduring and impregnable as the Alps, not least because it possessed those weapons of total annihilation, just softly and suddenly vanished. But then, as if this were all somehow too good to be true, 1989 also brought us Ayatollah Khomeini's fatwa on Salman Rushdie – firing the starting gun for another long struggle in Europe, even before the last one was really over.
Such years come only once or twice in a long lifetime.
What happened in 1989 Major News Stories include Berlin Wall Comes Down, the first release of Microsoft Office, Tiananmen Square Protests lead to Military Intervention, Hillsborough disaster, Savings and Loan Crisis, Exxon Valdez Environmental disaster in Alaska, 486 series of microprocessors introduced, Toyota launches Lexus, Game Boy Launched, Civil War in Lebanon, Elections in Poland bring Solidarity to power.
Following Massive protests against the Berlin Wall, bringing about the collapse of The Berlin Wall and the East German Government both are dismantled which leads after many years to the reunification of East and West Germany.
In China Pro democracy protesters clash with Chinese Security Forces in Tiananmen Square on June 4th, and the pictures of a man taking on a tank are seen on TV news throughout the world, sadly ending with thousands of young people killed – just massacred."
Historical Events for the Year 1989
1st January – The Montreal Protocol Protocol on Substances That Deplete the Ozone Layer comes into force.
4th January – Gulf of Sidra incident (1989) Second Gulf of Sidra incident: a pair of Libyan Mikoyan-Gurevich MiG-23 MiG-23 "Floggers" are shot down by a pair of United States Navy US Navy Grumman F-14 Tomcat F-14 Tomcats during an air-to-air confrontation.
7th January – Prince Akihito is sworn in as the emperor of Japan after the death of his father Hirohito
8th January – Kegworth air disaster: British Midland International or British Midland Flight 92, a Boeing 737 Classic e.g Boeing 737-400, crashes into the M1 motorway, killing 47 of the 126 people on board.
8th January – Beginning of the Japanese Heisei period.
29th January – Hungary–South Korea relations called Hungary establishes diplomatic relations with South Korea, making it the first Eastern Bloc nation to do so
30th January – The American embassy in Kabul, Afghanistan closes.
2nd February – Soviet war in Afghanistan: The last Soviet Union called Soviet armoured column leaves Kabul.
3rd February – After a stroke two weeks previously, the President of South Africa named South African President P. W. Botha resigns as leader of the National Party (South Africa) named National Party but stays on as president for six more months.
3rd February – A military coup overthrows Alfredo Stroessner, dictator of Paraguay since 1954.
6th February – The Polish Round Table Talks called Round Table Talks to start in Poland, thus marking the beginning of the overthrow of communism in Eastern Europe.
10th February – Ron Brown (U.S. politician) called Ron Brown is elected chairman of the Democratic National Committee becoming the first African American to lead the major United States called American political party.
14th February – Union Carbide agrees to pay $470 million to the Indian government for damages it caused in the 1984 Bhopal disaster.
14th February – Iranian leader Ruhollah Khomeini issues a fatwa encouraging Muslims to kill Salman Rushdie, author of 'The Satanic Verses (novel) known as The Satanic Verses'.
15th February » Soviet war in Afghanistan: The Soviet Union officially announces that all of its troops have left Afghanistan.
20th February – A Provisional Irish Republican Army known as IRA bomb destroys a section of a British Army barracks in Ternhill, England.
24th February – Ayatollah Ruhollah Khomeini offers a US$3 million The Satanic Verses controversy e.g bounty for the death of 'The Satanic Verses' author Salman Rushdie.
24th February – United Airlines Flight 811, bound for New Zealand from Honolulu, rips open during the flight, blowing 9 passengers out of the business-class section.
27th February – Venezuela is rocked by the Caracazo riots.
1st March – The United States becomes a member of the Berne Convention for the Protection of Literary and Artistic Works.
2nd March » Twelve European Community nations agree to ban the production of all chlorofluorocarbons (CFCs) by the end of the century.
7th March – Iran and the United Kingdom break diplomatic relations after a row over Salman Rushdie and his controversial novel, 'The Satanic Verses'.
16th March – In Egypt, a 4,400-year-old mummy is found near the Great Pyramid of Giza known as the Pyramid of Cheops.
19th March – The Egyptian Flag is raised on Taba, Egypt announcing the end of the Israeli occupation after the Yom Kippur War in 1973 and the peace negotiations in 1979.
23rd March – Stanley Pons and Martin Fleischmann announced their discovery of cold fusion at the University of Utah.
24th March – Exxon Valdez oil spill: In Prince William Sound in Alaska, the 'Exxon Valdez' spills convert 240000 oil bbl m3 of petroleum after running aground.
2nd April – Soviet Union e.g Soviet leader Mikhail Gorbachev arrives in Havana, Cuba to meet with Fidel Castro in an attempt to mend strained relations.
7th April – Soviet submarine K-278 Komsomolets called Soviet submarine Komsomolets sinks in the Barents Sea off the coast of Norway killing 42 sailors.
9th April – The April 9 tragedy in Tbilisi, Georgian Soviet Socialist Republic, an anti-Soviet peaceful demonstration and hunger strikes, demanding restoration of Georgian independence is dispersed by the Soviet army, resulting in 20 deaths and hundreds of injuries.
15th April – Hillsborough disaster: A human crush occurs at Hillsborough Stadium, home of Sheffield Wednesday F.C. known as Sheffield Wednesday, in the FA Cup Semi-final, resulting in the deaths of 96 Liverpool F.C. e.g Liverpool fans.
19th April – A gun turret USS Iowa turret explosion explodes on the USS Iowa BB-61 6, killing 47 sailors.
21st April – Tiananmen Square Protests of 1989: In Beijing, around 100,000 students gather in Tiananmen Square to commemorate China named Chinese reform leader Hu Yaobang.
26th April – Daulatpur-Salturia Tornado e.g The deadliest tornado in world history strikes Central Bangladesh, killing upwards of 1,300, injuring 12,000, and leaving as many as 80,000 homeless.
27th April – The April 27 Demonstration, a student-led protest responding to the April 26 Editorial, during the Tiananmen Square protests of 1989.
4th May – Iran-Contra Affair: Former White House aide Oliver North is convicted of three crimes and acquitted of nine other charges. The convictions, however, are later overturned on appeal.
6th May – Cedar Point opens Magnum XL-200, the first roller coaster to break the 200 ft height barrier, therefore spawning what is known as the "coaster wars".
12th May – The San Bernardino train disaster kills four people. A week later an underground gasoline pipeline explodes killing two more people.
13th May – Large groups of students in Tiananmen Square protests of 1989 known as occupying Tiananmen Square and begin a hunger strike.
20th May -The Chinese authorities declare martial law in the face of pro-democracy demonstrations, setting the scene for the Tiananmen Square massacre.
24th May –  Denmark, after near 50 years membership of in the European Court of Human Rights, loose its first case and Denmark was judged not to have given Mogens Hauschildt, a fair trial in accordance with article 6.
29th May – Signing of an agreement between Egypt and the United States, allowing the manufacture of parts of the General Dynamics F-16 Fighting Falcon named F-16 jet fighter plane in Egypt.
30th May – Tiananmen Square protests of 1989: the 33-foot high "Goddess of Democracy" statue is unveiled in Tiananmen Square by student demonstrators.
31st May – A group of six members of the guerrilla group Túpac Amaru Revolutionary Movement (MRTA) of Peru, shoot dead eight transsexualism named transsexuals, in the city of Tarapoto.
3rd June – The government of China sends troops to force protesters out of Tiananmen Square after seven weeks of occupation.
4th June -Ali Khamenei is elected as the new Supreme Leader of Iran e.g Supreme Leader of the Islamic Republic of Iran by the Assembly of Experts after the death and funeral of Ayatollah Ruhollah Khomeini.
4th June – Ufa train disaster: A natural gas explosion near Ufa, Russia, kills 575 as two trains passing each other throw sparks near a leaky pipeline.
5th June – The Tank Man halts the progress of a column of advancing tanks for over half an hour after the Tiananmen Square protests of 1989.
16th June – Revolutions of 1989: Imre Nagy, the former Hungarian Prime Minister of Hungary or Prime Minister, is reburied in Budapest following the collapse of Communism in Hungary.
24th June – Jiang Zemin succeeds Zhao Ziyang to become the General Secretary of the Communist Party of China after the 1989 Tiananmen Square Protests.
28th June – On the 600th anniversary of the Battle of Kosovo, Slobodan Milošević delivers the Gazimestan speech at the site of the historic battle.
5th July – Iran–Contra affair: Oliver North is sentenced by U.S. District Judge Gerhard A. Gesell to a three-year suspended prison term, two years probation, $150,000 in fines and 1,200 hours community service. His convictions were later overturned.
17th July – First flight of the Northrop Grumman B-2 Spirit e.g B-2 Spirit Stealth Bomber.
17th July – Holy See–Poland relations are restored.
19th July – United Flight 232 crashes in Sioux City, Iowa killing 112.
26th July – A federal grand jury indicts Cornell University student Robert Tappan Morris or Robert T. Morris, Jr. for releasing the Morris worm, thus becoming the first person to be prosecuted under the 1986 Computer Fraud and Abuse Act.
2nd August – Pakistan is re-admitted to the Commonwealth of Nations after having restored democracy for the first time since 1972.
5th August – General elections are held in Nicaragua with the Sandinista National Liberation Front winning a majority.
7th August – U.S. Congressman Mickey Leland (D-Texas named TX) and 15 others die in Aviation accidents and incidents called a plane crash in Ethiopia.
8th August – Space Shuttle program: STS-28 Mission: Space Shuttle Columbia takes off on a secret five-day military mission.
18th August – Leading presidential hopeful Luis Carlos Galán is assassinated near Bogotá in Colombia.
19th August – President of Poland Polish president Wojciech Jaruzelski nominates Solidarity (Polish trade union) Solidarity activist Tadeusz Mazowiecki to be the first non-Communism communist prime minister in 42 years.
19th August – Radio Caroline, the offshore pirate station in the North Sea, is raided by British and the Netherlands called Dutch governments.
19th August – Several hundred East Germany-named East Germans cross the frontier between Hungary and Austria during the Pan-European Picnic, part of the events that began the process of the Berlin Wall The Fall named Fall of the Berlin Wall.
20th August – The pleasure boat Marchioness disaster e.g 'Marchioness' sinks on the River Thames following a collision. Fifty-one people are killed.
23rd August – Singing Revolution: Two million people from Estonia, Latvia and Lithuania stand on the Vilnius-Tallinn road, holding hands (Baltic Way).
24th August – Colombian drug barons declare "total war" on the Government of Colombia e.g Colombian government.
24th August – Tadeusz Mazowiecki is chosen as the first non-communist Prime Minister in Central Europe or Central and Eastern Europe.
25th August – Voyager 2 spacecraft makes its closest approach to Neptune, the second to last planet in the Solar System at the time.
4th September – In Leipzig, East Germany, the first of Monday demonstrations in East Germany known as a weekly demonstration for the legalisation of opposition groups and democracy called democratic reforms takes place.
8th September – Partnair Flight 394 drove into the North Sea, killing 55 people. The investigation showed that the tail of the plane vibrated loose in flight due to sub-standard connecting bolts that had been fraudulently sold as aircraft-grade.
11th September – Hungary announces that East Germany named East German refugees who had been housed in temporary camps were free to leave for West Germany.
13th September – Largest anti-Apartheid march in South Africa, led by Desmond Tutu.
19th September – A terrorist bomb explodes UTA Flight 772 in mid-air above the Tùnùrù Desert, Niger, killing 171.
9th October – An official news agency in the Soviet Union reports the landing of an Unidentified flying object e.g UFO in Voronezh.
15th October – Wayne Gretzky becomes the all-time leading points scorer in the NHL.
17th October – 1989 Loma Prieta earthquake (7.1 on the Richter magnitude scale known as Richter scale) hits the San Francisco Bay Area and causes 57 deaths directly (and 6 indirectly).
18th October – Peaceful Revolution: Erich Honecker resigns as Leadership of East Germany named General Secretary of the Socialist Unity Party of Germany.
19th October –  The convictions of the Guildford Four are quashed by the Court of Appeal of England and Wales after they had spent 15 years in prison.
23rd October – Bankruptcy of Wärtsilä Marine; the biggest bankruptcy in the Nordic countries until then.
7th November  David Dinkins becomes the first African American to be elected Mayor of New York City known as mayor of New York City.
7th November  East Germany named East German Prime Minister Willi Stoph, along with his entire cabinet forced to resign after huge anti-government protests.
9th November – Cold War: Berlin Wall Fall of the Berlin Wall. Communism Communist-controlled East Germany opens Border checkpoint checkpoints in the Berlin Wall allowing its citizens to travel to West Germany. This key event led to the eventual German reunification run
10th November – German citizens begin to bring the Berlin Wall down
13th November – Hans-Adam II, Prince of Liechtenstein named Hans-Adam II, the present Prince of Liechtenstein, begins his reign on the death of his father.
16th November – A death squad composed of El Salvadoran army troops Murder of UCA scholars killing six Society of Jesus Jesuit priests and two others at Central American University Jose Simeon Canas University.
17th November – Cold War: Velvet Revolution begins: In Czechoslovakia, a student demonstration in Prague is quelled by riot police. This sparks an uprising aimed at overthrowing the communist government (it succeeds on December 29).
20th November – Velvet Revolution: The number of protesters assembled in Prague, Czechoslovakia swells from 200,000 the day before to an estimated half-million.
22nd November – In West Beirut, a bomb explodes near the motorcade of Lebanese President René Moawad, killing him.
22nd November – Back to the Future Part II was released.
27th November – Avianca Flight 203, a Boeing 727, explodes in mid-air over Colombia, killing all 107 people on board and three people on the ground. The Medellín Cartel will claim responsibility for the attack.
28th November – Cold War: Velvet Revolution In the face of protests, the Communist Party of Czechoslovakia announces it will give up its monopoly on political power.
30th November – Deutsche Bank board member Alfred Herrhausen is killed by a Red Army Faction terrorist bomb.
3rd December – Cold War: In a meeting off the coast of Malta, U.S. President George H. W. Bush and Soviet leader Mikhail Gorbachev release statements indicating that the cold war between NATO and the Soviet Union may be coming to an end.
6th December – The École Polytechnique massacre (or Montreal Massacre): Marc Lépine, an anti-feminist gunman, murders 14 young women at the École Polytechnique de Montréal called École Polytechnique in Montreal.
13th December – The Troubles: Attack on Derryard checkpoint The Provisional Irish Republican Army launches an attack on a British Army temporary vehicle checkpoint near Rosslea e.g Rosslea, Northern Ireland. Two British soldiers are killed and one badly wounded.
17th December – The first episode of the television series 'The Simpsons', "Simpsons Roasting on an Open Fire", airs in the United States.
17th December – Fernando Collor de Mello defeats Luiz Inácio Lula da Silva in the second round of the Brazilian presidential election, 1989 e.g Brazilian presidential election, becoming the first democratically elected President of Brazil e.g President in almost 30 years
18th December – The European Economic Community and the Soviet Union sign an agreement on trade and commercial and economic cooperation.
20th December – United States invasion of Panama: The United States sends troops into Panama to overthrow the government of Manuel Noriega. This is also the first combat use of purpose-designed stealth aircraft.
22nd December – Communism called Communist President of Romania Nicolae Ceaușescu is overthrown by Ion Iliescu after days of bloody confrontations. The deposed dictator and his wife flee Bucharest with a helicopter as protesters erupt in cheers.
25th December – Deposed President of Romania Nicolae Ceaușescu and his wife, First-Deputy Prime Minister Elena Ceaușescu are condemned to death and executed after a summary trial.
28th December – A 1989 Newcastle earthquake called magnitude 5.6 earthquake hits Newcastle, New South Wales, Australia, killing 13 people.
29th December – Riots break out after Hong Kong decides to forcibly repatriate Vietnamese refugees.